The Supply Department.
30th March 1911
Page 19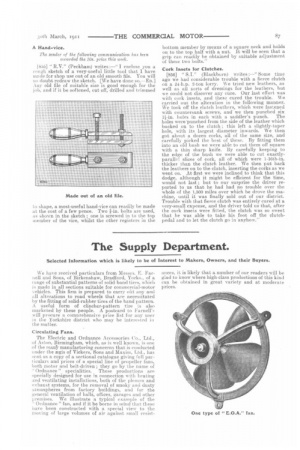 Page 19, 30th March 1911 —
The Supply Department.
Close
Selected Information which is likely to be of Interest to Makers, Owners, and their Buyers.
We have received particulars from Messrs. E. Parnell and Sons, of Birkenshaw, Bradford, Yorks., of a range of substantial patterns of solid-band tires, which is made in all sections suitable for commercial-motor vehicles. This firm is prepared to carry ofit any and all alterations to road wheels that are necessitated by the fitting of solid-rubber tires of the band pattern. A useful form of clincher-pattern tire is also marketed by these people. A postcard to Parnell's will procure a comprehensive price list for any user in the Yorkshire district who may be interested in the matter.
Circulating Fans.
The Electric and Ordnance Accessories Co., Ltd., of Aston, Birmingham, which, as is well known, is one of the man'Y manufacturing concerns that is conducted under the gis of Vickers, Sons and Maxim, Ltd., has sent, us a copy of a sectional catalogue giving full pariculars and prices of a special line of propeller fans, both motor and belt-driven ; they go by the name of Ordnance" specialities. These productions are specially designed for use in connection with heating and ventilating installations, both of the plenum and exhaust systems, for the removal of smoky and dusty atmospheres from factory buildings, and for the general ventilation of halls, offices, garages and other premises. We illustrate a typical example of the Ordnance" fan, and if it be borne in mind that these have been constructed with a special view to the moving of large volumes of air against small resist ances, it is likely that a number of our readers will be glad to know where high-class productions of this kind can be obtained in great variety and at moderate prices.