Answers to Queries.
30th March 1911
Page 17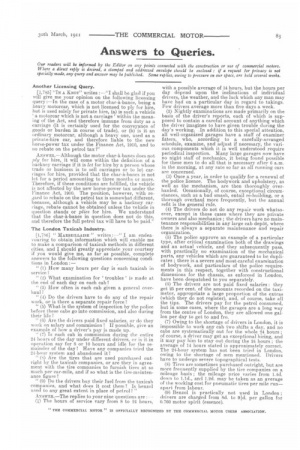 Page 17, 30th March 1911 —
Answers to Queries.
Close
Our readers will be informed by the Editor on any points connected with the construction or use of commercial motors. Where a direct reply is desired, a stamped and addressed envelope should be enclosed : if a request tor privacy is not specially made, any query and answer may be published. Some replies, owing to pressure on our space, are held several weeks.
Another Licensing Query.
[1,785] "IN A KNOT" writes : —"I shall be glad if you will give me your opinion on the following licensing query :—In the case of a motor char-e.,--bancs, being a heavy motorcar, which is not licensed to ply for hire, but is used solely for private hire, (a) is such a vehicle 'a motorcar which is not a carriage' within the meaning of the Act, and therefore immune from duty as a carriage (it is certainly used for the conveyance of goods or burden in course of trade), or (b) is it an ordinary motorcar, although a heavy one, used as a private-hire car, and therefore liable to the new horse-power tax under the Finance Act, 1910, and to no rebate on the petrol tax ?"
ANSWER.—Although the motor char-à-bancs does not ply for hire, it will come within the definition of a hackney carriage if it is let for hire by a person whose trade or business is to sell carriages or to let carriages for hire, provided that the char-h-bancs is not let for a period amounting to three months or more. Therefore, if these conditions are fulfilled, the vehicle is not affected by the new horse-power tax under the Finance Act, 1910. The position, however, with regard to rebate on the petrol tax is somewhat different, because, although a vehicle may be a hackney car. riage, rebate cannot be obtained unless the vehicle in question stands or plies for hire. We understand that the char-&-bancs in question does not do this, and therefore the full petrol tax will have to be paid.'
The London Taxicab Industry.
[1,7E56] " MARSE ILLA " writes :---" I am endea
vouring to obtain information which will enable me to make a comparison of taxicab methods in different cities, and I should greatly appreciate your courtesy if you would give me, as far as possible, complete answers to the following questions concerning conditions in London :—
" (1) How many hours per day is each taxicab in service .1
"(ii) What examination for ' troubles ' is made at the end of each day on each cab?
"(3) How often is each cab given a general overhaul ?
"(4) Do the drivers have to do any of the repair work, or is there a separate repair force? "(5) What is the system of inspection by the police before these cabs go into commission, and also during their life2 " (6) Are the drivers paid fixed salaries, or do they work on salary and commission If possible, give an example of how a driver's pay is made up. " (t) Is each cab in commission during the entire 24 hours of the day under different drivers, or is it in operation say for 8 or 10 hours and idle for the remainder of the day Have any companies tried the 24-hour system and abandoned it?
" (s) Are the tires that are used purchased outright by the taxicab companies, or are they in agreement with the tire companies to furnish tires at so much per car-mile, and if so what is the tire-maintenance figure ?
" (9) -Do the drivers buy their fuel from the taxicab companies, and what does it cost them ? Is benzol used to any great extent in place of petrol?"
AxswER.—The replies to your nine questions are : (1) The hours of service vary from 8 to 24 hours,
with a possible average of 14 hours, but the hours per day depend upon the inclinations of individual drivers, the weather, and the luck which any man may have had on a particular day in regard to takings. Few drivers average more than five clays a week.
(2) Nightly examinations are made primarily on the basis of the driver's reports, each of which is supposed to contain a careful account of anything which the driver imagines to have given trouble during the day's working. In addition to this special attention, all well-organized garages have a staff of examiner fitters, who, according to a carefully-arranged schedule, examine, and adjust if necessary, the various components which it is well understood require periodical inspection. Many large garages now have no night staff of mechanics, it being found possible for these men to do all that is necessary after 6 a.m. in the morning, at any rate so far as all running cars are concerned.
(3) Once a year, in order to qualify for a renewal of the police licence. The bodywork and upholstery, as well as the mechanism, are then thoroughly. overhauled. Occasionally, of course, exceptional circumstances, such as a bad smash, entail re-building, or a thorough overhaul more frequently, but the annual refit is the general rule.
(4) The drivers do not do any repair work whatsoever, except in those cases where they are private owners and also mechanics ; the drivers have no maintenance responsibilities in any large cab depot, where there 3S always a separate maintenance and repair organization.
(5) The police approve an example of a particular type, after critical examination both of the drawings and an actual vehicle, and they subsequently pass, with practically no examination of the mechanical parts, any vehicles which are guaranteed to be duplicates; there is a severe and most-careful examination of bodywork, and particulars of the police requirements in this respect, together with constructional dimensions for the chassis, as enforced in London, have been despatched to you separately. (6) The drivers are not paid fixed salaries : they get 25 per cent. of the amounts recorded on the taximeter, appropriate a large proportion of the extras (which they do not register), and, of course, take all the tips. The drivers pay for the petrol consumed, but in some cases, where the garages are a long way from the centre of London, they are allowed one gallon per day to get to and fro.
(7) Owing to the shortage of drivers in London, it is impossible to work any cab two shifts a day, and no cabs are systematically out for the whole 24 hours ; of course, a driver may get an exceptional hiring, and it may pay him to stay out during the 24 hours ; the average of 14 hours stated is approximately correct. The 24-hour system has not been tried in London, owing to the shortage of men mentioned. Drivers have to undergo severe topographical tests.
(8) Tires are sometimes purchased outright, but are more frequently supplied by the tire companies on a mileage basis ; the mileage price varies from 1.4d. down to 1.1d., and 1.2d. may be taken as an average of the working cost for pneumatic tires per mile run— apart from labour. (9) Benzol is practically not used in London ; drivers are charged from Bd. to 91d. per gallon for 0.760 motor spirit (essence).