Fire-Brigade Matters.
30th March 1911
Page 14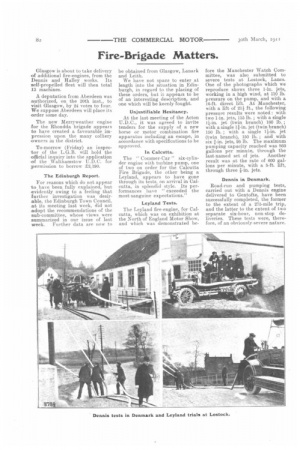 Page 14, 30th March 1911 —
Fire-Brigade Matters.
Close
Glasgow is about to take delivery of additional fire-engines, from the Dennis and Halley works. Its self-propelled fleet will then total 13 machines.
A deputation from Aberdeen was authorized, on the 20th inst., to visit Glasgow, by 24 votes to four. We suppose Aberdeen will place its order some day.
The new Merryweather engine for the Rhondda brigade appeals to have created a favourable impression upon the many colliery owners in the district.
To-morrow (Friday) an inspector of the L.G.B. will hold the official inquiry into the application of the Walthamstow U.D.C. for permission to borrow 22,190.
The Edinburgh Report.
For reasons which do not appear to have been fully explained, but evidently owing to a feeling that further investigation was desirable, the Edinburgh Town Council, at its meeting last week, did not adopt the recommendations of the sub-committee, whose views were summarized in our issue of last week. Further data are now to be obtained from Glasgow, Lanark and Leith.
We have not space to enter at length into the situation in Edinburgh, in regard to the placing of these orders, but it appears to be of an interesting description, and one which will be keenly fought.
Unjustifiable Hesitancy.
At the last meeting of the Acton U.D.C., it was agreed to invite tenders for the supply of a new horse or motor combination fire apparatus including an escape, in accordance with specifications to be approved.
In Calcutta.
The " Commer-Car " six-cylinder engine with turbine pump, one of two on order for the Calcutta Fire Brigade, the other being a Leyland, appears to have gone through its tests, on arrival in Calcutta, in splendid style, Its performances have " exceeded the most-sanguine expectations."
Leyland Tests.
The Leyland fire-engine, for Calcutta, which was on exhibition at the North of England Motor Show, and which was demonstrated be fore the Manchester Watch Committee, was also submitted to severe tests at Lostock, Lancs. One of the photographs which we reproduce shows three 1-in, jets, working in a high wind, at 110 lb. pressure on the pump, and with a 16-ft. direct lift. At Manchester, with a lift of 21i ft., the following pressure results were noted : with two 1-in. jets, 155 lb. ; with a single 11-in. jet (twin branch) 160 lb. ; with a single 11-in, jet (twin branch) 150 lb. ; with a single 1k-in. jet (twin branch), 150 lb. ; and with six jets, 95 lb. The maximum pumping capacity reached was 860 gallons per minute, through the last-named set of jets. Another result was at the rate of 600 gallons per minute, with a 6-ft. lift, through three i-in. jets.
Dennis in Denmark.
Road-run and pumping tests, carried out with a Dennis engine delivered to Gentofte, have been successfully completed, the former to the extent of a 275-mile trip, and the latter to the extent of two separate six-hour, non-stop deliveries. These tests were, therefore, of an obviously-severe nature.