When Mr. Ken Willmott invited me to the smoking concert
30th March 1911
Page 13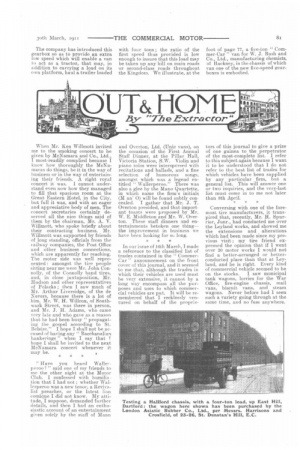 Page 13, 30th March 1911 —
When Mr. Ken Willmott invited me to the smoking concert
Close
Keywords :
to be given by McNamara and Co., Ltd., I most-readily complied because I know how thoroughly the McNarnaras do things, be it in the way of business or in the way of entertaining their friends. A right royal concert it was. I cannot understand even now how they managed to fill that spacious room at the Great Eastern Hotel, in the City, but full it was, and with an eager and appreciative body of men. The concert secretaries certainly deserved all the nice things said of them by the chairman, Mr. A. V. Willmott, who spoke briefly about their contracting business. Mr. Willmott was supported by friends of long standing, officials from the railway companies, the Post Office and other business connections, which are apparently far reaching. The motor side was well represented: amongst the tire people sitting near me were Mr. John Connolly, of the Connolly band tires, and, in close juxtaposition, Mr. Hudson and other representatives of Polaeks ; then I saw much of Mr. Arthur Liversidge, of the de Nevers, because there is a lot of him. Mr. W. H. Willcox, of Southwark Street, was there in person, and Mr. J. H. Adams, who came very late and who gave as a reason that he had been busy "propagating the gospel according to St. Belsize." I lope I shall not be accused of having any" Bacchanalian hankerings" when I say that I hope I shall be invited to the next. McNamara concert whenever it may be. 9 "have you heard Wallerperool " said one of my friends to me the other night at the Motor Club. I confessed with humiliation that I had not ; whether WaIlerperoo was a new tenor, a Revivalist preacher, or the latest lion cornique I did not know. My attitude, I suppose, demanded further details, and then I had an enthusiastic account of an entertainment given solely by the staff of Mann and Overton, Ltd. (Unic vans), on the occasion of the First Annual Staff Dinner, at the Pillar Hall, Victoria Station, S.W. Violin and piano solos were interspersed with recitations and ballads, and a fine selection of humorous songs, amongst which was a legend entitled " Wallerperoo." There -was also a glee by the Mano Quartette, in which name the firm initials (M an' 0) will be found subtly concealed. I gather that Mr. J. T. Overton presided, and that important toasts were proposed by Mr. W. E. Middleton and Mr. W. Overton. These staff dinners and entertainments betoken one thing— the improvement in business we have been looking for so long.
In our issue of lath March, I made a reference to the classified list of trades contained in the " CommerCar " announcement on the front cover of this journal, and it seemed to me that, although the trades in which their vehicles are used must be very extensive, it cannot by a long way encompass all the purposes and uses to which commercial vehicles are put. It will he remembered that I recklessly ventured on behalf of the proprie tors of this journal to give a prize of one guinea to the perpetrator of the most-complete list. I refer to this subject again because T want it to be understood that I do not refer to the best list of trades for which vehicles have been supplied by any particular firm, but a general list. This will answer one or two inquiries2 and the very-last list must come in to me not later
than 8th April,
Conversing with one of the foremost tire manufacturers, it transpired that, recently, Mr. H. Spurrier, Junr., had conducted me over the Leyland works, and showed me the extensions and alterations which had been made since my previous visit ; my tire friend expressed the opinion that if I went over 20 motor works I would not find a better-arranged or bettorconducted place than that at Leyland, and he is right. Every kind of commercial vehicle seemed to be on the stocks. I saw municipal tank wagons, lorries for the War Office, fire-engine chassis, mail vans, biscuit vans, and steam wagons. Never before had I seen such a variety going through at the same time, and no fuss anywhere.