FA on the offensive against London proposals
2rd April 1983
Page 7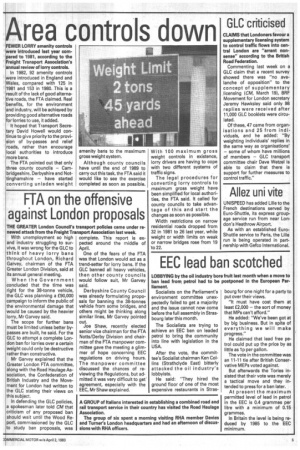 Page 7, 2rd April 1983 —
FA on the offensive against London proposals
Close
THE GREATER London Council's transport policies came under renewed attack from the Freight Transport Association last week.
With unemployment so high and industry struggling to survive, it was wrong for the GLC to think of heavy lorry bans throughout London, Richard Garvey, chairman of the FTA Greater London Division, said at its annual general meeting.
When the Government concluded that the time was right for the 38-tonne vehicle, the GLC was planning a £90,000 campaign to inform the public of the environmental damage that would be caused by the heavier lorry, Mr Garvey said.
The scope for further bans must be limited unless better bypasses are built, he said. For the GLC to attempt a complete London ban for lorries over a certain weight could only be destructive rather than constructive.
Mr Garvey explained that the Greater London FTA committee, along with the Road Haulage Association, the Confederation of British Industry and the Movement for London had written to the GLC stating their views on this subject.
In defending the GLC policies, a spokesman later told CM that criticism of any proposed ban should wait until the Wood Report, commissioned by the GLC to study ban proposals, was complete. This report is expected around the middle of April.
One of the fears of the FTA was that London would act as a trend-setter for lorry bans. if the GLC banned all heavy vehicles, then other county councils would follow suit, Mr Garvey said.
Derbyshire County Council was already formulating proposals for banning the 38-tonnes vehicle from some bridges, and others might be thinking along similar lines, Mr Garvey pointed out.
Joe Shaw, recently elected senior vice chairman for the FTA Notts/Derby Division and chairman of the FTA manpower committee gave the meeting a glimmer of hope concerning EEC regulations on driving hours. The manpower committee discussed the chances of reviewing the Regulations, but admitted it was very difficult to get' agreement, especially with the EEC, Mr Shaw explained.