Area controls down
2rd April 1983
Page 7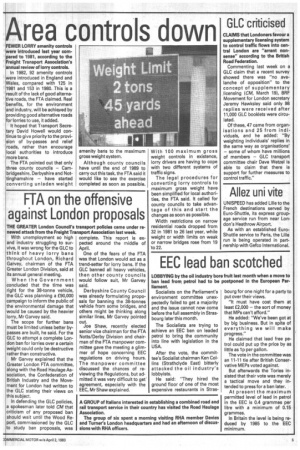 Page 7, 2rd April 1983 —
Area controls down
Close
FEWER LORRY amenity controls were introduced last year compared to 1981, according to the Freight Transport Association's annual review of lorry controls.
In 1982, 92 amenity controls• were introduced in England and Wales, compared with 125 in 1981 and 153 in 1980. This is a result of the lack of good alternative roads, the FTA claimed. Real benefits, for the environment and industry, will be achie,ved by providing good alternative roads for lorries to use, it added.
It hoped that Transport Secretary David Howell would continue to give priority to the provision of by-passes and relief roads, rather than encourage local authorities to introduce more bans.
The FTA pointed out that only three county councils — Cambridgeshire, Derbyshire and Nottinghamshire — have started converting unladen weight amenity bans to the maximum gross weight system.
Although county councils have until the end of 1989 to carry out this task, the FTA said it would like to see the exercise completed as soon as possible. With 100 maximum gross weight controls in existence, lorry drivers are having to cope with two different systems of traffic signs.
The legal procedures for converting lorry controls to maximum gross weight have been simplified for local authorities, the FTA said. It called for county councils to take advantage of this and start the changes as soon as possible.
Width restrictions on narrow residential roads dropped from 32 in 1981 to 26 last year, while weight or width limits on weak or narrow bridges rose from 19 to 22.