Clarity in 38 tonne fog
2rd April 1983
Page 5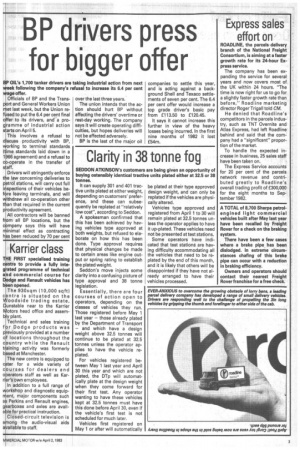 Page 5, 2rd April 1983 —
Clarity in 38 tonne fog
Close
SEDDON ATKINSON's customers are being given an opportunity of buying ostensibly identical tractive units plated either at 32.5 or 38 tonnes.
It can supply 301 and 401 tractive units plated at either weight, depending on customers' preference, and these can subsequently be replated at "relatively low cost", according to Seddon.
A spokesman confirmed that this has been achieved by having vehicles type approved at both weights, but refused to elaborate on how this has been done. Type approval requires that physical changes be made to certain areas like engine output or spring rating to establish the plated weight.
Seddon's move injects some clarity into a confusing picture of type approval and 38 tonne legislation.
Essentially, there are four courses of action open to operators, depending on the classes of vehicles they run Those registered before May 1 last year — those already plated by the Department of Transport — and which have a design weight above 32.5 tonnes will continue to be plated at 32.5 tonnes unless the operator applies to have the vehicle replated.
For vehicles registered between May 1 last year and April 30 this year and which are not plated, the DTp will automatically plate at the design weight when they come forward for their first test. Any operator wanting to have these vehicles kept at 32.5 tonnes must have this done before April 30, even if the vehicle's first test is not scheduled for much later.
Vehicles first registered on May 1 or after will automatically be plated at their type approved design weight, and can only be replated if the vehicles are physically altered.
Vehicles type approved and registered from April 1 to 30 will remain plated at 32.5 tonnes unless the operator applies to have it up-plated. These vehicles need not be presented at test stations.
Some operators have indicated that test stations are having difficulty accommodating all the vehicles that need to be replated by the end of this month, and it is likely that others will be disappointed if they have not already arranged to have their vehicles processed.