First the good news; then ...
2rd April 1983
Page 39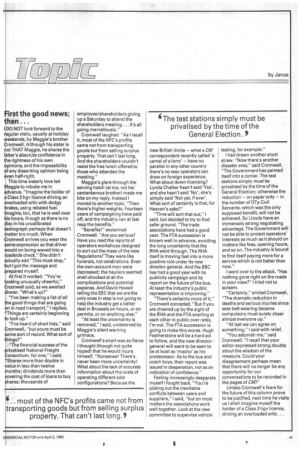 Page 39, 2rd April 1983 —
First the good news; then ...
Close
I DO NOT look forward to the regular visits, usually at holiday weekends, by Maggie's brother Cromwell. Although his sister is not THAT Maggie, he shares the latter's absolute confidence in the rightness of his own opinions, and the impossibility of any dissenting opinion being even half-right.
This time sisterly love fed Maggie to rebuke me in advance. "Imagine the holder of a Class 3 hgv licence driving an overloaded artic with dodgy brakes, using rebated fuel. Imagine, too, that he is well over his hours, though as there is no disc in his uncalibrated tachograph perhaps that doesn't matter too much. When Cromwell arrives you wear the same expression as that driver would on being waved into a roadside check." She didn't actually add "This must stop," but I got the message and prepared myself.
At first it worked. "You're looking unusually cheerful," Cromwell said, as we awaited dinner. "What's up?"
"I've been making a list of all the good things that are going on in road transport," I repliea. "Things are certainly beginning lo look up."
"I've heard of short lists," said Cromwell, "but yours must be some sort of record. What sort of things?"
"The financial success of the privatised National Freight Consortium, for one," I said. "Shares more than double in value in less than twelve months; dividends more than covering the cost of loans to buy shares; thousands of employee/shareholders giving up a Saturday to attend the shareholders meeting ... it's all going marvellously." .
Cromwell laughed. "As I recall it, most of the NFC's profits came not from transporting goods but from selling surplus property. That can't last long. And the shareholders couldn't resist the free lunch offered to those who attended the meeting."
Maggie's glare through the serving hatch (at me, not her cantankerous brother) made me bite on my reply. Instead I moved to another topic. "Then there's higher weights. Fourteen years of campaigning have paid off, and the industry can at last reap the benefits."
"Benefits!" exclaimed Cromwell. "Are you serious? Have you read the reports of operators workshops designed to sort out the mess of the new Regulations? They were like funerals, not celebrations. Even the own-account men were depressed; the hauliers seemed shell-shocked at all the complications and potential expense. And David Howell telling the EEC that we are the only ones in step is not going to help the industry get a better deal in Brussels on hours, or on permits, or on anything else."
"At least the uncertainty is removed," I said, undeterred by Maggie's silent warning grimace.
Cromwell's snort was so fierce I thought (though not quite hoped) that he would injure himself. "Nonsense! There's never been more uncertainty! What about the lack of accurate information about the costs of operating different axle configurations? Because the