Long live Motec
2rd April 1983
Page 20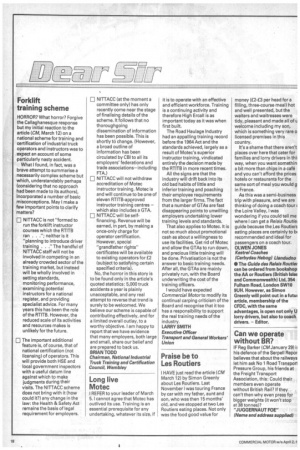 Page 20, 2rd April 1983 —
Long live Motec
Close
I REFER to your leader of March 5. I cannot agree that Motec has outlived its use. Training is an essential prerequisite for any undertaking, whatever its size, if it is to operate with an effective and efficient workforce. Training is a continuing activity and therefore High Ercail is as important today as it was when first built.
The Road Haulage Industry had an appalling training record before the 1964 Act and the standards achieved, largely as a result of Motec's superior instructor training, vindicated entirely the decision made by the RTITB in more recent times.
All the signs are that the industry will drift back into its old bad habits of little and inferior training and poaching their employee requirements from the larger firms. The fact that a number of GTAs are fast disappearing points to unwilling employers undertaking lower training levels and standards.
That also applies to Motec. It is not so much about promotional cash as about a willingness to use its facilities. Get rid of Motec and allow the GTAs to run down, and precious little training will be done. Privatisation is not the answer to basic training needs. After all, the GTAs are mainly privately run, with the Board underwriting the cost of the training officers.
I would have expected Commercial Motor to modify its continual carping criticism of the Board and recognise that it too has a responsibility to support the real training needs of the industry.
LARRY SMITH Executive Officer Transport and General Workers' Union