ompass takes M-B
2rd April 1983
Page 19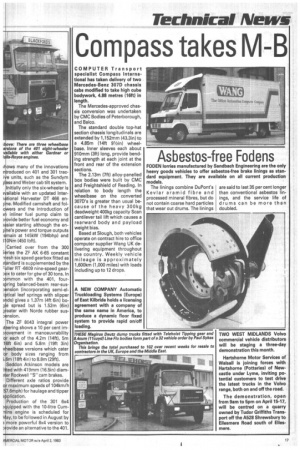 Page 19, 2rd April 1983 —
ompass takes M-B
Close
COMPUTER Transport specialist Compass International has taken delivery of two Mercedes-Benz 307D chassis cabs modified to take high cube bodywork, 4.88 metres (16ft) in length.
The Mercedes-approved chassis conversion was undertaken by CMC Bodies of Peterborough, and Baico.
The standard double top-hat section chassis longitudinals are extended by 1,152mm (43.3in) to a 4.85m (14ft 91/2in) wheelbase. Inner sleeves each about 910mm (3ft) long, provide bending strength at each joint at the front and rear of the extension sections.
The 2.13m (7ft) alloy-panelled box bodies were built by CMC and Freightshield of Reading. In relation to body length the wheelbase on the converted 307D's is greater than usual because of the heavy 3 0 Okg deadweight 400kg capacity Scan cantilever tail lift which causes a rearward body and payload weight bias.
Based at Slough, both vehicles operate on contract hire to office computer supplier Wang UK delivering equipment throughout the country. Weekly vehicle mileage is approximately 1,600km (1,000 miles) with loads including up to 12 drops.