Seddon Atkinson launches new range
2rd April 1983
Page 18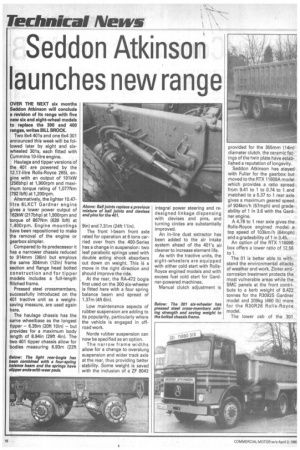 Page 19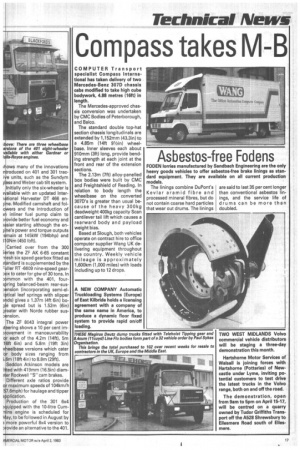 Page 18, 2rd April 1983 —
Seddon Atkinson launches new range
Close
OVER THE NEXT six months Seddon Atkinson will conclude a revision of its range with five new six and eight-wheel models to replace the 300 and 400 ranges, writes BILL BROCK.
Two 8x4 401s and one 6x4 301 announced this week will be followed later by eight and sixwheeled 301s, each fitted with Cummins 10-litre engine.
Haulage and tipper versions of the 401 are powered by the 12.17-litre Rolls-Royce 265L engine with an output of 191kW (256bhp) at 1,900rpm and maximum torque rating of 1,077Nm (792 Ibft) at 1,200rpm.
Alternatively, the lighter 10.47litre 6LXCT Gardner engine gives a lower power output of 162kW (217bhp) at 1,900rpm and torque of 867Nm (639 lbft) at 1,400rpm. Engine mountings have been repositioned to make the removal of the engine or gearbox simpler.
Compared to its predecessor it has a narrower chassis reduced to 914mm (361n) but employs the same 304mm (12in) frame section and flange head bolted construction and for tipper models includes a .full-length flitched frame.
Pressed steel crossmembers, successfully introduced on the 401 tractive unit as a weightsaving measure, are used again here.
The haulage chassis has the same wheelbase as the longest tipper — 6.35m (20ft 10in) — but provides for a maximum body length of 8.94in (29ft 4in). The two 401 tipper chassis allow for bodies measuring 6.93m 122ft 9in) and 7.31m (24ft 11in).
The front I-beam front axle rated for operation at 6 tons carried over from the 400-Series has a change in suspension: two leaf parabolic springs used with double acting shock absorbers cut down on weight. This is a move in the right direction and should improve the ride.
. At the rear, the RA-472 bogie first used on the 300 six-wheeler is fitted here with a four spring balance beam and spread of 1.37m (4ft 6in).
Low maintenance aspects of rubber suspension are adding to its popularity, particularly where the vehicle is engaged in offroad work.
Norde rubber suspension can now be specified as an option.
The narrow frame widths allow for a change to overslung suspension and wider track axle at the rear, thus providing better stability. Some weight is saved with the inclusion of a ZF 8043 integral power steering and redesigned linkage dispensing with devises and pins, and turning circles are substantially improved.
An in-line dust extractor has been added to the air intake system ahead of the 401's air cleaner to increase element life.
As with the tractive units, the eight-wheelers are equipped with either cold start with RollsRoyce engined models and with excess fuel cold start for Gardner-powered machines.
Manual clutch adjustment is provided for the 355mm (14in) diameter clutch, the ceramic facings of the twin plate have established a reputation of longevity.
Seddon Atkinson has stayed with Fuller for the gearbox but moved to the RTX 11609A model which provides a ratio spread from 9.41 to 1 to 0.74 to 1 and matched to a 5.37 to 1 rear axle gives a maximum geared speed of 924km/h (57mph) and gradeability of 1 in 3.6 with the Gardner engine.
A 4.78 to 1 rear axle gives the Rolls-Royce engined model a top speed of 103km/h (64mph) and a gradeability of 1 in 3.45.
An option of the RTX 11609B box offers a lower ratio of 12.56 to 1.
The 01 is better able to withstand the environmental attacks of weather and work. Zinter anticorrosion treatment protects the most vulnerable areas while the SMC panels at the front contribute to a kerb weight of 8.422 tonnes for the R3092S Gardner model and 209kg (460 lb) more for the R30R26 Rolls-Royce model.
The lower cab of the 301 ;hows many of the innovations ntroduced on 401 and 301 tracive units, such as the Sundym jlass and Weber cab tilt system.
Initially only the six-wheeler is ivailable with an updated Internotional Harvester DT 466 enjine. Modified camshaft and folowers and the introduction of m inliner fuel pump claim to vovide better fuel economy and ?asier starting although the enline's power and torque outputs .emain at 145kW (194bhp) and 51 ONm (450 lbft).
Carried over from the 300 ieries the ZF AK 6-65 constant -r esh six speed gearbox fitted as ;tandard is supplemented by the :uller RT -6609 nine-speed gear30x to cater for gtw of 30 tons. In ;ommon with the 401, fourspring balanced-beam rear-susaension (incorporating semi-eliptical leaf springs with slipper )nds) gives a 1.37m (4ft 6in) bo3ie spread but is 1.52m (6in)
eater with Norde rubber susDension.
The ZF 8043 integral power ;teering shows a 10 per cent immovement in manoeuvrability or each of the 4.2m (14ft), 5m 16ft 6in) and 5.8m (19ft 3in) vieelbase versions which cater or body sizes ranging from i.6m (18ft 4in) to 8.8m (29ft).
Seddon Atkinson models are 'Med with 419mm (16.5in) diam?ter Rockwell "S" cam brakes.
Different axle ratios provide or maximum speeds of 104km/h 57.6mph) for haulage and tipper Ipplication.
Production of the 301 6x4 ?quipped with the 10-litre Cum"nins engine is scheduled for Vlay, to be followed in August by 3 more powerful 8x4 version to ) ovide an alternative to the 401.