Q The MoT leaflet G12 refers on page 7 to goods
2nd October 1970
Page 54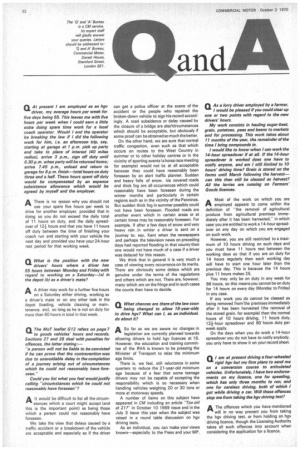 Page 54, 2nd October 1970 —
Q The MoT leaflet G12 refers on page 7 to goods
Close
vehicles' hours and records. Sections 27 and 28 deal with penalties for offences, the latter stating:—
"a person will not be liable to be convicted if he can prove that the contravention was due to unavoidable delay in the completion of a journey arising out of circumstances which he could not reasonably have foreseen."
Could you list what you feel would justify calling "circumstances which he could not reasonably have foreseen"?
A It would be difficult to list all the circum
stances which a court might accept land this is the important point) as being those which a person could not reasonably have foreseen.
We take the view that delays caused by a traffic accident or a breakdown of the vehicle are acceptable and especially so if the driver can get a police officer at the scene of the accident or the people who repaired the broken-down vehicle to sign his record accordingly. A road subsidence or delay caused by the closure of a bridge are also'circumstances which should be acceptable, but obviously if some proof can be obtained so much the better.
On the other hand, we are sure that normal traffic congestion, even such as that which occurs on routes to the West Country in summer or to other holiday centres or in the vicinity of sporting events ta horse race meeting for example) would not bE at all acceptable because they could have reasonably been foreseen by an alert traffic planner. Sudden and heavy falls of snow, ice covered roads and thick fog are all occurrences which could reasonably have been foreseen during the winter months and particularly in certain regions such as in the vicinity of the Pennines. But sudden thick fog in summer possibly could not have been foreseen. Flooded roads are another event which in certain areas or at certain times may be reasonably foreseen. For example, if after a few days of snow and very heavy rain in winter a driver is sent on a journey to, say, Kent when the newspapers and perhaps the television news on preceding days had reported flooding in that county then one would not have much of a case if a driver was delayed for this reason.
We think that in general it is very much a case of viewing every occurrence on its merits. There are obviously some delays which are genuine under the terms of the regulations and others which are not. There are, however, many which are on the fringe and in such cases the courts then have to decide.