Q At present I am employed as an hgv driver, my
2nd October 1970
Page 54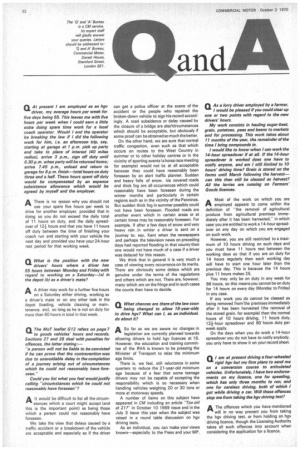 Page 54, 2nd October 1970 —
Q At present I am employed as an hgv driver, my
Close
average hours per week for five days being 55. This leaves me with five hours per week when I could earn a little extra doing spare time work for a local coach operator, Would I and the operator be breaking the law if I did the following work for him, i.e. an afternoon trip, say, starting at garage at 1 p.m. pick up party and take to place of interest (40 miles radius), arrive 3 p.m., sign off duty until 6.30 p.m. when party will be returned home; arrive 7.45 p.m., unload and return to garage for 8 p.m. finish—total hours on duty three and a half. These hours spent off duty would be compensated by an expense subsistence allowance which would be agreed by myself and the employer.
AThere is no reason why you should not
use your spare five hours per week to drive for another employer, provided that in doing so you do not exceed the daily total of 11 hours on duty, and the daily spreadover of 124hours and that you have 11 hours off duty between the time of finishing your coach run and starting with your vehicle the next day and provided you have your 24-hour rest period for that working week.