a What chances are there of the law soon being changed
2nd October 1970
Page 54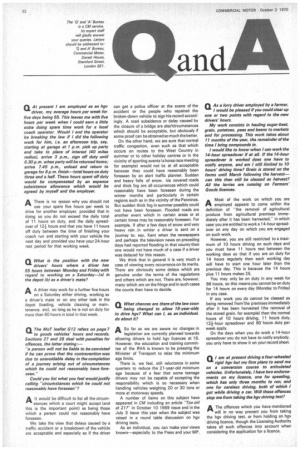 Page 54, 2nd October 1970 —
a What chances are there of the law soon being changed
Close
to allow 18-year-olds to drive hgv? What can I, as an individual, do about it?
ASo far as we are aware no changes in
legislation are currently planned towards allowing drivers to hold hgv licences at 18. However, the education and training committee of the RHA is known to be pressing the Minister of Transport to relax the minimum age limits.
There is. we feel, still reluctance in some quarters to reduce the 21-year-old minimum age because of a fear that some teenage drivers may not be capable of accepting the responsibility which is so necessary when handling vehicles weighing 20 or 30 tons or more at motorway speeds.
A number of items on this subject have appeared in CM including an article "Too old at 217' in October 10 1969 issue and in the July 3 issue this year when the subject was raised in a round table discussion on hgv driving tests.
As an individual, you can make your views known—especially to the Press and your MP.