a As a lorry driver employed by a farmer, I would
2nd October 1970
Page 54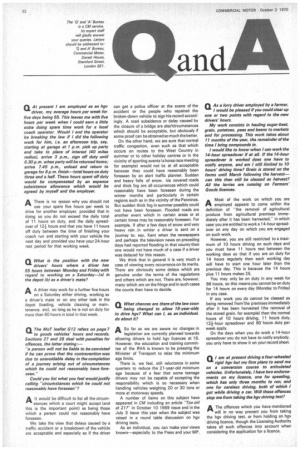 Page 54, 2nd October 1970 —
a As a lorry driver employed by a farmer, I would
Close
be pleased if you could clear up one or two points with regard to the new drivers' hours.
My work consists in hauling sugar-beet, grain, potatoes, peas and beans to markets and for processing. This work takes about 11 months of the year, the remainder of the time I bring compounds in.
I would like to know when I can work the 14-hour spreadover if at all. If the 14-hour spreadover is worked does one have to notify anyone, and am I still limited to 10 hours' driving time? Grain is stored on the farms until March following the harvest— can this then still be classed as harvest? All the lorries are running on Farmers' Goods licences.
A Most of the work on which you are employed appears to come within the definition of -the removal of agricultural produce from agricultural premises immediately after it has been harvested,in which case you are entitled to work a 14-hour spreadover on any day on which you are engaged on such work.
However, you are still restricted to a maximum of 10 hours driving on such days and you must have 11 hours rest between the working days so that if you are on duty for 14 hours regularly then each working day will have to start one hour later than the previous day. This is because the 14 hours plus 11 hours makes 25.
You may only be on duty in any week for 66 hours, so this means you cannot be on duty for 14 hours on every day (Monday to Friday) in any case.
If any work you do cannot be classed as being removed from 'the premises immediately after it has been harvested (the removal of the stored grain, for example) then the normal hours of 10 hours driving, 11 hours duty, 124-hour spreadover and 60 hours duty per week apply.
On the days when you do work a 14-hour spreadover you do not have to notify anybody, you only have to show it on your record sheet.