COMMERCIAL MOTOR October 2 1970
2nd October 1970
Page 52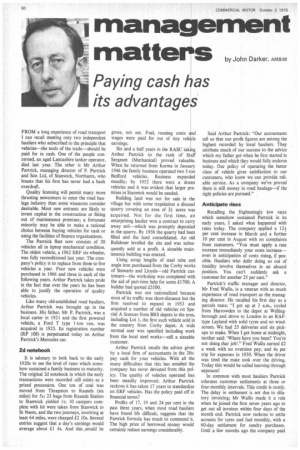 Page 53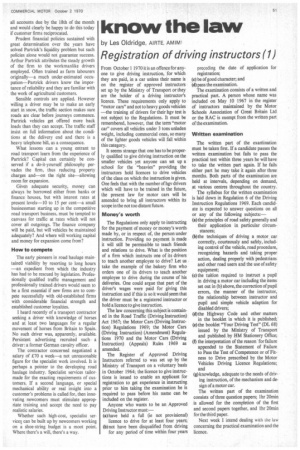 Page 52, 2nd October 1970 —
COMMERCIAL MOTOR October 2 1970
Close
manaement
matteris by John Darker, AMBIM
Paying cash as its advantage
FROM a long experience of road transport I can recall meeting only two independent hauliers who subscribed to the principle that vehicles—the tools of the trade—should be paid for in cash. One of the people concerned, an aged Lancashire tanker operator, died last year. The other is Mr Arthur Partrick, managing director of P. Partrick and Son Ltd, of Stanwick, Northants, who boasts that his firm has never had a bank overdraft.
Quality licensing will permit many more thrusting newcomers to enter the road haulage industry than some wiseacres consider desirable. Most new entrants are likely to invest capital in the construction or fitting out of maintenance premises; a fortunate minority may be able to make a rational choice between buying vehicles for cash or using the facilities of finance organizations.
The Partrick fleet now consists of 20 vehicles all in tiptop mechanical condition. The oldest vehicle, a 1962 ERF six-wheeler, was fully reconditioned last year. The company's policy is to replace from three to five vehicles a year. Four new vehicles were purchased in 1966 and three in each of the following years. Arthur Partrick takes pride in the fact that over the years he has been able to justify the operation of quality vehicles.
Like many old-established road hauliers, Arthur Partrick was brought up in the business. His father, Mr P. Partrick, was a local carter in 1921 and the first powered vehicle, a Ford T type I-ton van, was acquired in 1923. Its registration number (RP 108) is perpetuated today on Arthur Partrick's Mercedes car.
2d notebook
It is salutary to look back to the early 1920s to see the level of rates which somehow sustained a family business to maturity. The original 2d notebook in which the early transactions were recorded still exists as a prized possession. One ton of coal Was moved from Thrapston to Raunds (six miles) for 5s; 23 bags from Raunds Station to Stanwick yielded Is; 10 campers complete with kit were taken from Stanwick to St Neots, and the two journeys, involving at least 64 miles, were charged £2 10s. Several entries suggest that a day's earnings would average about £1 4s. And this _would be gross, not net. Fuel, running costs nd wages were paid for out of tiny vett' le earnings.
Six and a half years in the RASC taking Arthur Partrick to the rank of Staff Sergeant (Mechanical) proved valuable. When he returned from burma in January 1946 the family business operated two 5-ton Bedford vehicles. Business expanded steadily; by 1952 there were a dozen vehicles and it was evident that larger premises in Stanwick would be needed.
Building land was not for sale in the village but with some trepidation a disused quarry covering an area of 2+ acres was acquired. Not for the first time, an enterprising haulier won a contract to carry away soil—which was promptly deposited in the quarry. By 1956 the quarry had been filled and the land consolidated. An old Bulldozer levelled the site and was subsequently sold at a profit. A sizeable maintenance building was erected.
Using scrap lengths of steel tube and angle iron purchased from the Corby works of Stewarts and Lloyds—old Partrick customers—the workshop was completed with the aid of part-time help for some £1700. A builder had quoted £5500.
Partrick was not nationalized because most of its traffic was short-distance but the firm resolved to expand in 1953 and acquired a number of old vehicles on Special A licences from BRS depots in the area, including Lot I, the first such vehicle sold in the country from Corby depot. A wide normal user was specified including work from the local steel works—sun a sizeable customer.
Arthur Partrick recalls the advice given by a local firm of accountants in the 20s: pay cash for your vehicles. With all the many difficulties that this has entailed the company has never deviated from this policy. The quality of vehicles operated has been steadily improved; Arthur Partrick reckons it has taken 17 years to standardize on ERF vehicles. Has the policy paid off in financial terms?
Profits of 17, 19 and 24 per cent in the past three years, when most road hauliers have found life difficult, suggests that the Partrick formula has much to commend it. The high price of borrowed money would certainly reduce earnings considerably. Said Arthur Partrick: "Our accountants tell us that our profit figures are among the highest recorded by local hauliers. They attribute much of our success to the advice which my father got when he first started in business and which they would fully endorse today. Our policy of operating the better class of vehicle gives satisfaction to our customers, who know we can provide reliable service. As a company we've proved there is still money in road haulage—if the right policies are pursued."
Anticipate rises
Recalling the frighteningly low rates which somehow sustained Partrick in its early years, I asked what happened with rates today. The company applied a 12+ per cent increase in March and a further 10 per cent in August with no complaints from customers. "You must apply a rate increase immediately your costs increase— even in anticipation of costs rising, if possible. Hauliers who defer doing so out of timidity involve themselves in an absurd position. You can't suddenly ask a customer for another 25 per cent."
Partrick's traffic manager and director, Mr Fred Wallis, is a veteran with as much experience of road transport as the managing director. He recalled his first day as a parcels mate: "I got up at 3 a.m., cycled from Harrowden to the depot at Wellingborough and drove to London in an RAFtype Leyland with solid tyres and no windscreen. We had 25 deliveries and six pickups to make. When I got home at midnight, mother said: 'Where have you been? You're not doing that job'." Fred Wallis earned £2 a week with no overtime pay, and 4s per trip for expenses in 1930. When the driver was tired the mate took over the driving. Today this would be called learning through exposure!
In common with most hauliers Partrick tolerates customer settlements at three or four-monthly intervals. This credit is costly. The delay in settlement is not due to dilatory invoicing; Mr Wallis made it a rule when he joined the firm seven years ago to get out all invoices within four days of the month end. Partrick now reckons to settle acounts for tyres and fuel monthly, with a 60-day settlement for sundry purchases. Until a few months ago the company paid all accounts due by the 18th of the month and would clearly be happy to do this today if customer firms reciprocated.
Prudent financial policies sustained with great determination over the years have solved Partrick's liquidity problem but such policies alone would not guarantee success. Arthur Partrick attributes the steady growth of the firm to the workmanlike drivers employed. Often trained as farm labourers originally—a much under-estimated occupation—Partrick drivers know the importance of reliability and they are familiar with the work of agricultural customers.
Sensible controls are applied. However willing a driver may be to make an early start in snow, the traffic section makes sure roads are clear before journeys commence. Partrick vehicles get offered more back loads than they can accept. The traffic staff insist on full information about the conditions at the delivery end and there is a heavy telephone bill, as a consequence.
What lessons can a young entrant to road transport learn from the experience of Partrick? Capital can certainly be conserved if a do-it-yourself philosophy pervades the firm, thus reducing property charges and—on the right site—allowing room for expansion.
Given adequate security, money can always be borrowed either from banks or finance houses, but with interest rates at present levels-10 to 15 per cent—a small businessman starting up in the competitive road transport business, must be tempted to canvass for traffic at rates which will not cover all outgoings. The finance company will be paid, but will vehicles be maintained adequately? And where will working capital and money for expansion come from?
How to compete The early pioneers in road haulage maintained viability by resorting to long hours —an expedient from which the industry has had to be rescued by legislation. Professionally qualified traffic management and professionally trained drivers would seem to be a first essential if new firms are to compete successfully with old-established firms with considerable fmancial strength and established customer loyalties.
I heard recently of a transport contractor seeking a driver with knowledge of horses and at least two languages for a regular movement of horses from Britain to Spain. No such driver was, apparently, available. Persistent advertising recruited such a driver: a former German cavalry officer.
The contractor concerned negotiated a salary of £70 a week—a not unreasonable figure for the specialist work involved. It is perhaps a pointer to the developing road haulage industry. Specialist services tailormade for the exacting requirements of customers. If a second language, or special mechanical ability or real insight into a customer's problems is called for, then innovating newcomers must stimulate appropriate training and accept the need to pay realistic salaries.
Whether such high-cost, specialist service can be built up by newcomers working on a shoe-string budget is a moot point. Where there's a will, there's a way.