safety Prepare now
2nd October 1970
Page 47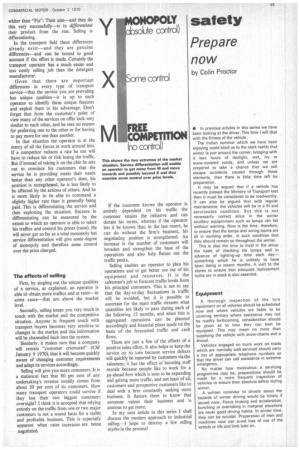 Page 47, 2nd October 1970 —
safety Prepare now
Close
Keywords :
Transport
,
Land Transport
,
Road Transport
,
Road Safety
,
Traffic Law
,
Car Safety
,
Lighting-up Time
,
Tire
,
Vehicle Inspection
,
Automotive Lighting
,
Disaster / Accident
by Colin Proctor
• In previous articles in this series we have been looking at the driver. This time I will deal with the fitness of the vehicle.
The Indian summer which we have been enjoying could blind us to the stark reality that winter is just around the corner, bringing with it less hours of daylight, wet, icy or snow-covered roads, and unless we are prepared to take a chance that we will escape accidents caused through these elements, then there is little time left for preparation.
It may be argued that if a vehicle has recently passed the Ministry of Transport test then it must be considered to be roadworthy. It can also be argued that with regular maintenance, the vehicles will be in a fit and serviceable condition. But this is not necessarily correct since in the winter ancillary equipmment such as lamps can fail without warning. Now is the time, therefore, to ensure that the lamps and wiring looms are all in working order, in such condition that they should remain so throughout the winter.
This is also the time to instil in the driver the habit of checking his lamps well in advance of lighting-up time each day— something which he is unlikely to have been doing in recent months. A visit to the stores to ensure that adequate replacement bulbs are in stock is also essential.
Equipment
A thorough inspection of the tyre equipment on all vehicles should be scheduled now and where vehicles are liable to be covering territory where assistance may not be readily forthcoming, consideration should be given as to hOw they can best be equipped. This may mean no more than supplying the vehicle with snow-chains and a shovel.
Vehicles engaged on trunk work on roads which are normally well serviced should carry a list of appropriate telephone numbers so that the driver can call assistance in extreme emergency.
No matter how meticulous a servicing programme may be, preparations should be made for a more frequent inspection of vehicles to ensure their absolute safety during winter.
A written reminder to drivers about the hazards of winter driving would be timely if issued now. Fierce braking and acceleration, bunching or overtaking in marginal situations are never good driving habits. In winter time, they can be suicidal. Preparation of men and machines now can avoid loss of use of the vehicle or life and limb later on.