DEE
2nd October 1970
Page 45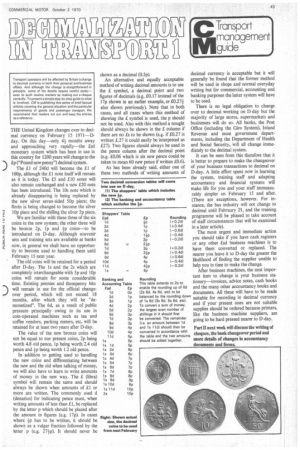 Page 45, 2nd October 1970 —
DEE
Close
THE United Kingdom changes over to decimal currency on February 15 1971-1)day. On this day—only 44 months away and approaching very rapidly—the £sd monetary system which has been in use in this country for 1200 years will change to the £p ("Pound new penny") decimal system.
The £1 of 240d will become the £1 of 100p, although the £1 note itself will remain as it is today. The ES and £10 notes will also remain unchanged and a new £20 note has been introduced. The lOs note which is already disappearing is being replaced by the new silver seven-sided 50p piece; the florin is being changed to become the silver 10p piece and the shilling the silver Sp piece.
We are familiar with these three of the six coins in the new system; the other three will be bronze 2p, 1 p and -fp coins—to be introduced on D-day. Although souvenir sets and training sets are available at banks now, in general we shall have no opportunity to become used to handling them until February 15 next year.
The old coins will be retained for a period after 13-day. The Is and the 2s which are completely interchangeable with 5p and 10p coins will remain for some considerable time. Existing pennies and threepenny bits will remain in use for the official changeover period, which will not exceed 18 months, after which they will be "demonetized". The 6d, as a result of public pressure principally owing to its use in coin-operated machines such as tea and coffee vendors, parking meters, etc, will be retained for at least two years after D-day.
The value of the new bronze coins will not be equal to our present coins, 2p being worth 4.8 old pence, lp being worth 2.4 old pence and ÷p being worth 1.2 old pence.
In addition to getting used to handling the new coins and differentiating between the new and the old when talking of money, we will also have to learn to write amounts of money in the new way. The £ (libra) symbol will remain the same and should always be shown when amounts of £1 or more are written. The commonly used d (denarius) for indicating pence must, when writing amounts of less than £1, be replaced by the letter p which should be placed after the amount in figures (e.g. 17p). In cases where +p has to be written, it should be shown as a vulgar fraction followed by the letter p (e.g. 27-fp). It should never be shown as a decimal (0.5p).
An alternative and equally acceptable method of writing decimal amounts is to use the £ symbol, a decimal point and two figures of decimals (e.g. £0.17 instead of the 17p shown in an earlier example, or £O.274also shown previously). Note that in both cases, and all cases where this method of showing the £ symbol is used, the p should not be used. Also with this method a nought should always be shown in the £ column if there are no Es to be shown (e.g. if £0.27 is written £.27 it could easily be interpreted as £27). Two figures should always be used in the pence column after the decimal point (e.g. £0.06 which is six new pence could be taken to mean 60 new pence if written £0.6).
As has been already said, either one of these two methods of writing amounts of decimal currency is acceptable but it will generally be found that the former method will be used in shops and normal everyday writing but for commercial, accounting and banking purposes the latter system will have to be used.
There is no legal obligation to change over to decimal working on D-day but the majority of large stores, supermarkets and businesses will do so. All banks, the Post Office (including the Giro System), Inland Revenue and most government departments, including the Department of Health and Social Security, will all change immediately to the decimal system.
It can be seen from this therefore that it is better to prepare to make the changeover of your business transactions to decimal on D-day. A little effort spent now in learning the system, training staff and adapting accountancy and financial systems will make life for you and your staff immeasurably simpler on February 15 and after. (There are exceptions, however. For instance, the bus industry will not change to decimal until February 21, and the training programme will be phased to take account of staff circumstances that will be examined in a later article).
The most urgent and immediate action you should take if you have cash registers or any other £sd business machines is to have them converted or replaced. The nearer you leave it to D-day the greater the likelihood of finding the supplier unable to help you in time to make the change.
After business machines, the next important item to change is your business stationery—invoices, advice notes, cash books and the many other accountancy books and documents. All these will have to be made suitable for recording in decimal currency and if your present ones are not suitable supplies should be ordered because printers, like the business machine suppliers, are going to be hard pressed nearer to D-day.