meet
2nd October 1970
Page 38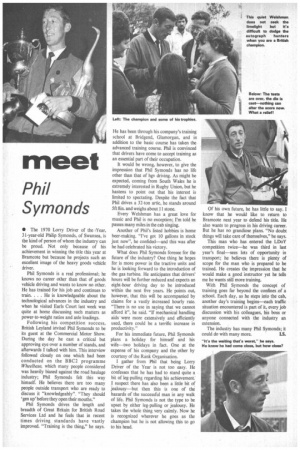 Page 38, 2nd October 1970 —
meet
Close
Phil Symonds
• The 1970 Lorry Driver of the 1Year, 31-year-old Philip Symonds, of Swansea, is the kind of person of whom the industry can be proud. Not only because of his achievement in winning the title this year at Bramcote but because he projects such an excellent image of the heavy goods vehicle driver.
Phil Symonds is a real professional; he knows no career other than that of goods vehicle driving and wants to know no other. He has trained for his job and continues to train. . . He is knowledgeable about the technological advances in the industry and when he visited Earls Court last week was quite at home discussing such matters as power-to-weight ratios and axle loadings.
Following his competition success, British Leyland invited Phil Symonds to be its guest at the Commercial Motor Show. During the day he cast a critical but approving eye over a number of stands, and afterwards I talked with him. This interview followed closely on one which had been conducted on the BBC2 programme Wheelbase, which many people considered was heavily biased against the road haulage industry; Phil Symonds felt this way himself. He believes there are too many people outside transport who are ready to discuss it "knowledgeably". "They should `gen up' before they open their mouths."
Phil Symonds drives the length and breadth of Great Britain for British Road Services Ltd and he feels that in recent times driving standards have vastly improved. "Training is the thing," he says. He has been through his company's training school at Bridgend, Glamorgan, and in addition to the basic course has taken the advanced training course. Phil is convinced that drivers have come to accept training as an essential part of their occupation.
It would be wrong, however, to give the impression that Phil Symonds has no life other than that of hgv driving. As might be expected, coming from South Wales he is extremely interested in Rugby Union, but he hastens to point out that his interest is limited to spectating. Despite the fact that Phil drives a 32-ton artic, he stands around 5ft 8in. and weighs about 11 stone.
Every Welshman has a great love for music and Phil is no exception; I'm told he passes many miles in the cab singing.
Another of Phil's listed hobbies is home beer-making. "I've got 10 gallons in stock just now", he confided—and this was after he had celebrated his victory.
What does Phil Symonds foresee for the future of the industry? One thing he hopes for is more power in the tractive units and he is looking forward to the introduction of the gas turbine. He anticipates that drivers' hours will be further reduced and expects an eight-hour driving day to be introduced within the next five years. He points out, however, that this will be accompanied by claims for a vastly increased hourly rate. "There is no use in saying that we cannot afford it", he said. "If mechanical handling aids were more extensively and efficiently used, there could be a terrific increase in productivity."
For his immediate future, Phil Symonds plans a holiday for himself and his wife—two holidays in fact. One at the expense of his company and the other by courtesy of the Rank Organisation.
I gather from Phil that being Lorry Driver of the Year is not too easy. He confesses that he has had to stand quite a bit of leg-pulling regarding his achievement: I suspect there has also been a little bit of jealousy—but then this is one of the hazards of the successful man in any walk of life. Phil Symonds is not the type to be upset by either leg-pulling or jealousy. He takes the whole thing very calmly. Now he is recognized wherever he goes as the champion but he is not allowing this to go to his head. Of his own future, he has little to say. I know that he would like to return to Bramcote next year to defend his title. He also wants to progress in his driving career. But he has no grandiose plans. "No doubt things will take care of themselves," he says.
This man who has entered the LDoY competition twice—he was third in last year's final—sees lots of opportunity in transport; he believes there is plenty of scope for the man who is prepared to be trained. He creates the impression that he would make a good instructor yet he tells me he wants still more training.
With Phil Symonds the concept of training goes far beyond the confines of a school. Each day, as he steps into the cab, another day's training begins—each traffic situation encountered is part of it, every job discussion with his colleagues, his boss or anyone connected with the industry an extension.
The industry has many Phil Symonds; it
could do with many more. LS.