Berliet steals the
2nd October 1970
Page 36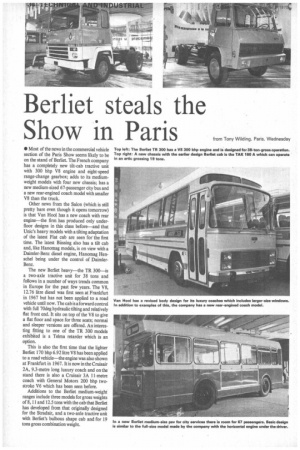 Page 36, 2nd October 1970 —
Berliet steals the
Close
Show in Paris from Tony Wilding. Paris, Wednesday • Most of the news in the commercial vehicle section of the Pans Show seems likely to be on the stand of Berliet. The French company has a completely new tilt-cab tractive unit with 300 bhp V8 engine and eight-speed range-change gearbox; adds to its mediumweight models with four new chassis; has a new medium-sized 67-passenger city bus and a new rear-engined coach model with smaller V8 than the truck.
Other news from the Salon (which is still pretty bare even though it opens tomorrow) is that Van Hodi has a new coach with rear engine—the firm has produced only underfloor designs in this class before—and that Unic's heavy models with a tilting adaptation of the latest Fiat cab are seen for' the first time. The latest Bussing also has a tilt cab and, like Hanomag models, is on view with a Daimler-Benz diesel engine, Hanomag Henschel being under the control of DaimlerBenz.
The new Berliet heavy—the TR 300—is a two-axle tractive unit for 38 tons and follows in a number of ways trends common in Europe for the past few years. The V8, 12.76 litre diesel was first seen at Frankfurt in 1967 but has not been applied to a road vehicle until now. The cab is a forward control with full 70deg hydraulic tilting and relatively flat front end. It sits on top of the V8 to give a flat floor and space for three seats; normal and sleeper versions are offered. An interesting fitting to one of the TR 300 models exhibited is a Telma retarder which is an option.
This is also the first time that the lighter Berliet 170 bhp 6.92 litre V8 has been applied to a road vehicle—the engine was also shown at Frankfurt in 1967. It is now in the Cruisair 2A, 9.3-metre long luxury coach and on the stand there is also a Cntisair 3A 11-metre coach with General Motors 200 bhp twostroke V6 which has been seen before.
Additions to the Berliet medium-weight ranges include three models for gross weights of 8, 11 and 12.5 tons with the cab that Berliet has developed from that originally designed for the Stradair, and a two-axle tractive unit with Berliet's bulbous shape cab and for 19 tons gross combination weight.