Hgv licence snags for young drivers
2nd October 1970
Page 33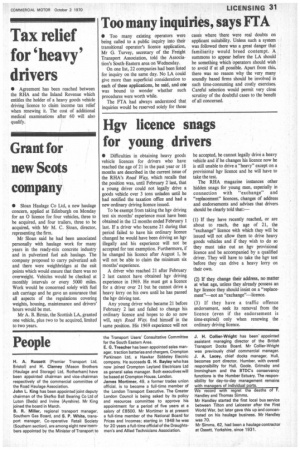 Page 33, 2nd October 1970 —
Hgv licence snags for young drivers
Close
• Difficulties in obtaining heavy goods vehicle licences for drivers who have reached the age of 21 in the past year or 18 months are described in the current issue of the RHA's Road Way, which recalls that the position was, until February 2 last, that a young driver could not legally drive a goods vehicle over 3 tons unladen until he had notified the taxation office and had a new ordinary driving licence issued.
To be exempt from taking the hgv driving test six months' experience must have been obtained in the 12 months ended February 1 last. If a driver who became 21 during that period failed to have his ordinary licence changed he would have been driving an hgv illegally and his experience will not be accepted for test exemption. Furthermore, if he changed his licence after August 1, he will not be able to claim the minimum six months' experience.
A driver who reached 21 after February 2 last cannot have obtained hgv driving experience in 1969. He must get a licence for a driver over 21 but he cannot drive a heavy lorry on his own until he has passed the hgv driving test.
Any young driver who became 21 before February 2 last and failed to change his ordinary licence and hopes to do so now will, says Road Way, find himself in the same position. His 1969 experience will not be accepted, he cannot legally drive a heavy vehicle and if he changes his licence now he is still unable to drive a "heavy" except on a provisional hgv licence and he will have to take the test.
The RHA magazine instances other hidden snags for young men, especially in connection with "exchange" and "replacement" licences, changes of address and endorsements and advises that drivers should be clearly told that:—
(1) If they have recently reached, or are about to reach, the age of 21, the "exchange" licence with which they will be issued will not allow them to drive heavy goods vehicles and if they wish to do so they must take out an hgv provisional licence and be accompanied by a qualified driver. They will have to take the hgv test before they can drive a heavy lorry on their own.
(2) If they change their address, no matter at what age, unless they already possess an hgv licence they should insist on a "replace ment"—not an "exchange" licence.
(3) If they have a traffic offence endorsement, seek its removal from the licence (even if the endorsement is time-expired) only when renewing the ordinary driving licence.