Burden on LA's office
2nd October 1970
Page 32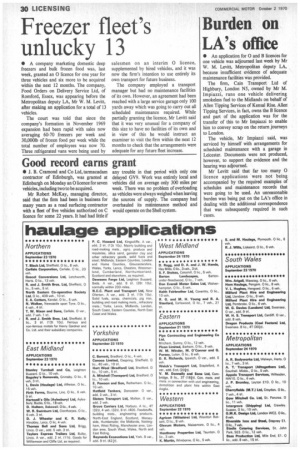 Page 32, 2nd October 1970 —
Burden on LA's office
Close
• An application for 0 and B licences for one vehicle was adjourned last week by Mr W. M. Levitt, Metropolitan deputy LA, because insufficient evidence of adequate maintenance facilities was provided.
The firm, Cain Transport Ltd of Highbury, London N5, owned by Mr M. Impiazzi, runs one vehicle delivering smokeless fuel to the Midlands on behalf of Allen Tipping Services of Kensal Rise. Allen Tipping Services, in fact, owns the B licence and part of the application was for the transfer of this to Mr Impiazzi to enable him to convey scrap on the return journeys to London.
The vehicle, Mr Impiazzi said, was serviced by himself with arrangements for scheduled maintenance with a garage in Leicester. Documents were not produced. however, to support the evidence and the hearing was adjourned.
Mr Levitt said that far too many 0 licence applications were not being accompanied by the required examples of schedules and maintenance records that were going to be used. An unreasonable burden was being put on the LA's office in dealing with the additional correspondence that was subsequently required in such cases.