CWS application adjourned
2nd October 1970
Page 31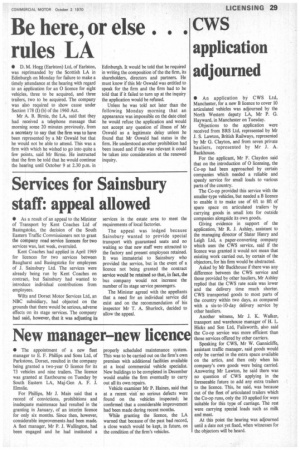 Page 31, 2nd October 1970 —
CWS application adjourned
Close
• An application by CWS Ltd, Manchester, for a new B licence to cover 10 articulated vehicles was adjourned by the North Western deputy LA, Mr P. G. Hayward, in Manchester on Tuesday.
Objections to the application were received from BRS Ltd, represented by Mr J. S. Lawton, British Railways, represented by Mr G. Clayton, and from seven private hauliers, represented by Mr J. A. Backhouse.
For the applicant, Mr F. Claydon said that on the introduction of 0 licensing, the Co-op had been approached by certain companies which needed a reliable and speedy service for small loads to various parts of the country.
The Co-op provided this service with the smaller-type vehicles, but needed a B licence to enable it to make use of oft to 8ft of spare space on articulated trailers by carrying goods in small lots for outside companies alongside its own goods.
Giving evidence in support of the application, Mr R. J. Ashley, assistant to the managing director of Slater Henry and Leigh Ltd, a paper-converting company which uses the CWS service, said if the licence was granted it would not mean that existing work carried out, by certain of the objectors, for his firm would be abstracted.
Asked by Mr Backhouse if there was any difference between the CWS service and those provided by other hauliers. Mr Ashley replied that the CWS rate scale was lower and the delivery time much shorter. CWS transported goods to most parts of the country within two days, as compared with a six-to-10-day delivery service by other hauliers.
Another witness, Mr J. K. Walker, transport and warehouse manager of H. L. Hicks and Son Ltd, Failsworth, also said the Co-op service was more efficient than those services offered by other carriers.
Speaking for CWS, Mr W. Gannicliffe, assistant traffic manager, said goods would only be carried in the extra space available on the artics. and then only when his company's own goods were being carried. Answering Mr Lawton. he said there was no question of CWS applying in the foreseeable future to add any extra trailers to the licence. This, he said, was because out of the fleet of articulated trailers which the Co-op runs, only the 10 applied for were suitable for this type of carriage. The rest were carrying special loads such as milk and meat.
At this point the hearing was adjourned until a date not yet fixed, when witnesses for the objectors will be heard.