Be here, or else. .
2nd October 1970
Page 31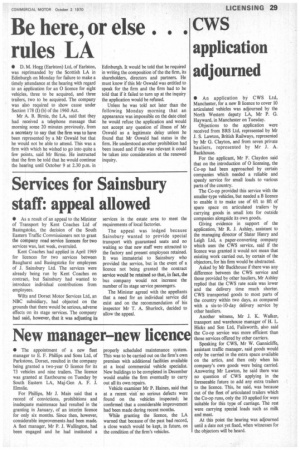 Page 31, 2nd October 1970 —
Be here, or else. .
Close
rules LA
• D. M. Hogg (Earlston) Ltd, of Earlston, was reprimanded by the Scottish LA in Edinburgh on Monday for failure to make a timely attendance at the hearing with regard to an application for an 0 licence for eight vehicles, three to be acquired, and three trailers, two to be acquired. The company was also required to show cause under Section 178 (1) (b) of the 1960 Act.
Mr A. B. Birnie, the LA, said that they had received a telephone message that morning some 20 minutes previously, from a secretary to say that the firm was to have been represented by a Mr Oswald but that he would not be able to attend. This was a firm with which he wished to go into quite a few points, said Mr Birnie. He instructed that the firm be told that he would continue the hearing until October 9 at 2.30 p.m. in Edinburgh. It would be told that he required in writing the composition of the the firm, its shareholders, directors and partners. He must know if this Mr Oswald was entitled to speak for the firm and the firm had to be told that if it failed to turn up at the inquiry the application would be refused.
Unless he was told not later than the following Monday morning that an appearance was impossible on the date cited he would refuse the application and would not accept any question of illness of Mr Oswald as a legitimate delay unless he found that Mr Oswald had status in the firm. He understood another prohibition had been issued and if this was relevant it could be taken into consideration at the renewed inquiry.