Lift-off bus evaluation
2nd October 1970
Page 25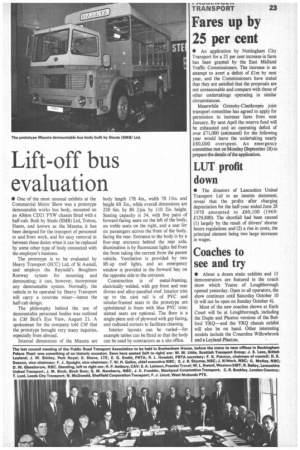 Page 25, 2nd October 1970 —
Lift-off bus evaluation
Close
• One of the most unusual exhibits at the Commercial Motor Show was a prototype demountable works bus body, mounted on an Albion CD21 FYW chassis fitted with a half-cab. Built by Steels (SMB) Ltd, Totton, Hants, and known as the Maxeta, it has been designed for the transport of personnel to and from work, and for easy removal in between these duties when it can be replaced by some other type of body connected with the employer's business.
The prototype is to be evaluated by Heavy Transport (ECC) Ltd, of St Austell, and employs the Reynold's Boughton Ronway system for mounting and demounting; it can, however, incorporate any demountable system. Normally, the vehicle to be operated by Heavy Transport will carry a concrete mixer—hence the half-cab design.
The philosophy behind the use of demountable personnel bodies was outlined in CM Bird's Eye View, August 21. A spokesman for the company told CM that the prototype brought very many inquiries, especially from abroad.
Internal dimensions of the Maxeta are body length 17ft 4in., width 7f1 I lin. and height 6ft 3in., while overall dimensions are 23f1 6in. by 8ft 2+in. by lift 2in. height. Seating capacity is 34, with five pairs of forward-facing seats on the left of the body, six treble seats on the right, and a seat for six passengers across the front of the body, facing the rear. Entrance to the body is by a four-step entrance behind the rear axle, illumination is by fluorescent lights fed from the front taking the current from the parent vehicle. Ventilation is provided by two lift-up roof lights, and an emergency window is provided in the forward bay on the opposite side to the entrance.
Construction is of metal-framing, electrically welded, with grp front and rear domes and alloy-panelled roof. Interior trim up to the cant rail is of PVC and tubular-framed seats in the prototype are upholstered in foam with blue PVC trim; slatted seats are optional. The floor is a single-piece unit of plywood with grp facing, and radiused corners to facilitate cleaning.
Interior layouts can be varied—for example tables can be fitted so that the body can be used by contractors as a site office.