Plating dates amended
2nd October 1970
Page 21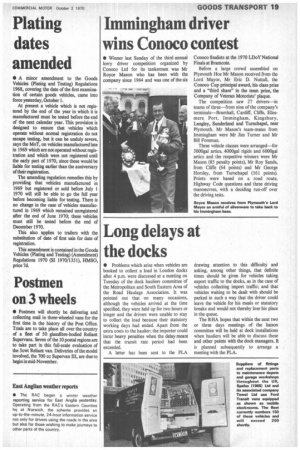 Page 21, 2nd October 1970 —
Plating dates amended
Close
• A minor amendment to the Goods Vehicles (Plating and Testing) Regulations 1968, covering the date of the first examination of certain goods vehicles, came into force yesterday, October 1.
At present a vehicle which is not registered by the end of the year in which it is manufactured must be tested before the end of the next calendar year. This provision is designed to ensure that vehicles which operate without normal registration do not escape testing, but it can be unduly severe, says the MoT, on vehicles manufactured late in 1969 which are not operated without registration and which were not registered until the early part of 1970, since these would be liable for testing earlier than the anniversary of their registration.
The amending regulation remedies this by providing that vehicles manufactured in 1969 but registered or sold before July 1 1970 will still be able to go the full year before becoming liable for testing. There is no change in the case of vehicles manufactured in 1969 which remained unregistered after the end of June 1970; these vehicles must still be tested before the end of December 1970.
This also applies to trailers with the substitution of date of first sale for date of registration.
This amendment is contained in the Goods. Vehicles (Plating and Testing) (Amendment) Regulations 1970 (SI 1970/1351), HMSO, price 7d.