Long delays at the docks
2nd October 1970
Page 21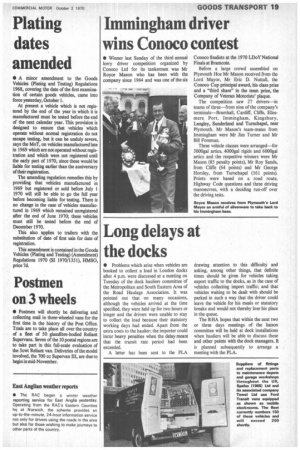 Page 21, 2nd October 1970 —
Long delays at the docks
Close
• Problems which arise when vehicles are booked to collect a load in London docks after 4 p.m. were discussed at a meeting on Tuesday of the dock hauliers committee of the Metropolitan and South Eastern Area of the Road Haulage Association. It was pointed out that on many occasions, although the vehicles arrived at the time specified, they were held up for two hours or longer and the drivers were unable to stay to collect the load because their statutory working days had ended. Apart from the extra costs to the haulier; the importer could incur heavy penalties when the delay meant that the transit rate period had been exceeded.
A letter has been sent to the PLA drawing attention to this difficulty and asking, among other things, that definite times should be given for vehicles taking export traffic to the docks, as in the case of vehicles collecting import traffic; and that vehicles waiting to be dealt with should be parked in such a way that the driver could leave the vehicle for his meals or statutory breaks and would not thereby lose his place in the queue.
The RHA hopes that within the next two or three days meetings of the liaison committee will be held at dock installations when hauliers will be able to discuss these and other points with the dock managers. It
is planned subsequently to arrange a meeting with the PLA.