Dockside Express service booming
2nd October 1970
Page 20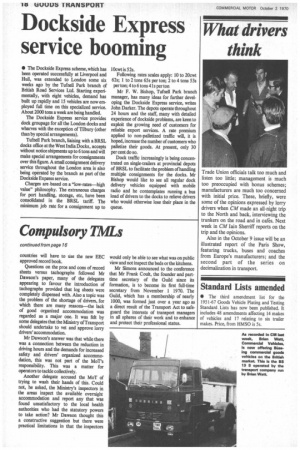 Page 20, 2nd October 1970 —
Dockside Express service booming
Close
• The Dockside Express scheme, which has been operated successfully at Liverpool and Hull, was extended to London some six weeks ago by the Tufnell Park branch of British Road Services Ltd. Starting experimentally, with eight vehicles, demand has built up rapidly and 15 vehicles are now employed full time on this specialized service. About 2000 tons a week are being handled.
The Dockside Express service provides dock groupage for all the London docks and wharves with the exception of Tilbury (other than by special arrangements).
Tufnell Park branch, liaising with a BRSL docks office at the West India Docks, accepts without notice shipments up to 6 tons and will make special arrangements for consignments over this figure. A small consignment delivery service throughout the London area is also being operated by the branch as part of the Dockside Express service.
Charges are based on a "low-rates—high value" philosophy. The extraneous charges for port handling, storage, etc, have been consolidated in the BRSL tariff. The minimum job rate for a consignment up to lOcwt is 52s.
Following rates scales apply: 10 to 20cwt 62s; 1 to 2 tons 65s per ton; 2 to 4 tons 53s per ton; 4 to 6 tons 41s per ton Mr F. W. Bishop, Tufnell Park branch manager, has many ideas for further developing the Dockside Express service, writes John Darker. The depots operate throughout 24 hours and the staff, many with detailed experience of dockside problems, are keen to exploit the growing need of customers for reliable export services. A rate premium applied to non-palletized traffic will, it is hoped, increase the number of customers who palletize their goods. At present, only 30 per cent do so.
Dock traffic increasingly is being concentrated on single-trailers at provincial depots of BRSL to facilitate the problem of handling multiple consignments for the docks. Mr Bishop would like to see all regular dock delivery vehicles equipped with mobile radio and he contemplates running a bus load of drivers to the docks to relieve drivers who would otherwise lose their place in the queue.