Humber buys McVeigh for El million
2nd October 1970
Page 19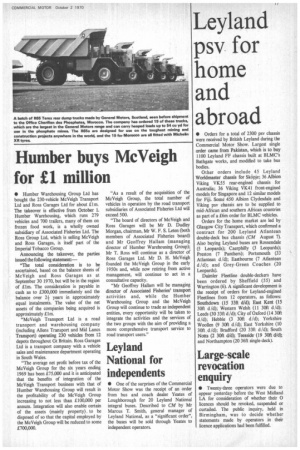 Page 19, 2nd October 1970 —
Humber buys McVeigh for El million
Close
• Humber Warehousing Group Ltd has bought the 230-vehicle McVeigh Transport Ltd and Ross Garages Ltd for about El m. The takeover is effective from October 1. Humber Warehousing, which runs 279 vehicles and 700 trailers, many of them on frozen food work, is a wholly owned subsidiary of Associated Fisheries Ltd. The Ross Group Ltd, which is selling McVeigh and Ross Garages, is itself part of the Imperial Tobacco Group.
Announcing the takeover, the parties issued the following statement— "The total consideration is to be ascertained, based on the balance sheets of McVeigh and Ross Garages as at September 30 1970, but will be in the region of Lim. The consideration is payable in cash as to £300,000 immediately and the balance over 21 years in approximately equal instalments. , The value of the net assets of the companies being acquired is approximately lm.
"McVeigh Transport Ltd is a road transport and warehousing company (including Aliens Transport and Mid Lancs Transport) operating 230 vehicles from 12 depots throughout Gt Britain. Ross Garages Ltd is a transport company with a vehicle sales and maintenance department operating in South Wales.
"The average net profit before tax of the McVeigh Group for the six years ending 1969 has been £75,000 and it is anticipated that the benefits of integration of the McVeigh Transport business with that of Humber Warehousing Group will result in the profitability of the McVeigh Group increasing to not less than £.100,000 per annum. Integration will also enable certain of the assets (mainly property). to be disposed of so that the capital employed by the McVeigh Group will be reduced to some £700,000. "As a result of the acquisition of the McVeigh Group, the total number of vehicles in operation by the road transport subsidiaries of Associated Fisheries Ltd will exceed 500.
"The board of directors of McVeigh and Ross Garages will be Mr D. Dudley Morgan, chairman, Mr W. F. S. Leten (both members of Associated Fisheries board) and Mr Geoffrey Hallam (managing director of Humber Warehousing Group); Mr T. Ross will continue as a director of Ross Garages Ltd. Mr D. H. McVeigh founded the McVeigh Group in the early 1950s and, while now retiring from active management, will continue to act in a consultative capacity.
"Mr Geoffrey Hallam will be managing director of Associated Fisheries' transport activities and, while the Humber Warehousing Group and the McVeigh Group will continue to trade as independent entities, every opportunity will be taken to integrate the activities and the services of the two groups with the aim of providing a more comprehensive transport service to road transport users."