In Public Service.
2nd October 1913
Page 9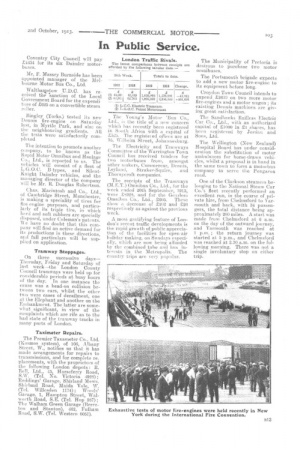 Page 10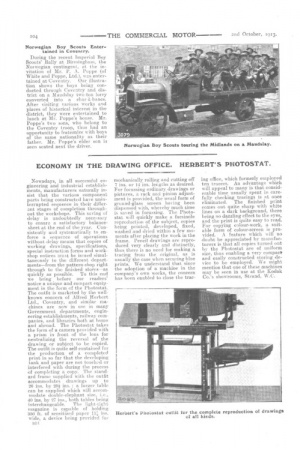 Page 9, 2nd October 1913 —
In Public Service.
Close
Coventry City Council will pay £4434 for its six Daimler nidtorbuses.
Mr. F. Massey Burnside has been appointed manager of the Melbourne Motor Bus Co., Ltd.
WalthaNstow U.D.O. has received the-'sa,nction of the Local Government Board for the expendi tore of £625 on a convertible steam Adler.
Bingley (Yorks.) tested its new Dennis fire-engine on Saturday last, in Myrtle Park, and also on the neighbouring gradients. All the tests were satisfactorily completed_
The intention to promote another company, to be known as the Rapid Motor Omnibus and Haulage Co., Ltd., is reported to us. The vehicles will consist of a fleet. of L.G.O.C. B-types, and SilentKnight Daimler vehicles, and the managing director of the company -will be Mr. R. Douglas Robertson.
Chas. Macintosh and Co., Ltd., of Cambridge Street, Manchester, is making a speciality of tires for fire engine purposes, and particularly of its triple tire, in which hard and soft rubbers are specially disposed, under Coleman's patents. We have no doubt that this company will find an active demand for its productions in these directions, and full particulars will be supplied on application.
Tramway Stoppages.
On three successive days— Thursday, Friday and Saturday of last week—the London County Council tramways were held up for considerable periods at busy hours of the day. In one instance the cause was a head-on collision between two cars, whilst the other two were cases of derailment, one at the Elephant and another on the Embankment. The latter are somewhat significant, in view of the complaints which are rife as to the bad state of the tramway tracks in many parts of London.
Taximeter Repairs.
The Premier Taxameter Co., Ltd. (Kosmos system), of 106, Albany Street, W., notifies us that it has made arrangements for repairs to transmissions, and for complete replacements, with the proprietors of the following London depots : R.. Bell, Ltd., 45, Horseferry Road, S.W. (Tel. No. Victoria 4928); Beddings' Garage, Shirland Mews, Shirland Road, Maida Vale, W. (Tel. Willesden 1174); Woods' Garage, 1, Harn_pton Street, Walworth Road, S.E. (Tel. Hop 587); The Walham Green Garage (Brereton and Stanton), 462, Fulham Road, S.W. (Tel. Western 6051),
The Young's Motor 'Bus Co., Ltd., is the title of a new concern which has recently been registered in South Africa with a capital of £523. The registeied offices are at 15, Wilhelm Street, Johannesburg.
The Electricity and Tramways Committee of the Warrington Town Council has received tenders for two motorbuses from, amongst other makers, Commercar, Dennis, Leyland, Straker-Squire, and Thornycroft companies, The receipts of the Tramwa.ys (M.E.T.) Omnibus Co., Ltd., for the week ended 20th September, 1913, were £3623, and for the Gearless Omnibus Co., Ltd., £605. These show a decrease of £202 and 26 respectively as against the previous week.
A most gratifying feature of London's recent traffic developments. is the rapid growth of public appreciation of the facilities for open-air holiday-making, on Sundays especially, which are now being afforded by the combined tube and bus intereets in the Metropolis. The country trips ace very menhir.
The Municipality of Pretoria is desirous to purchase two motor omnibuses.
The Portsmouth brigade expects to add.a, new motor fire-engine to its equipment before long.
Croydon Town Council intends to expend. £2600 on two more motor fire-engtues and a motor wagon ; its existing Dennis machines are giving great satisfaction.
The Sandbanks Railless Electric Car Co., Ltd., with an authorized capital of Il11100 in ;(-..;1 shares, has been registered by Jordan and Sons, Ltd.
The Wellington (New Zealand) Hospital Boned has under consideration the substitution of motor ambulances for horsesdrawn vehicles, whilst a proposal is in hand in the same town to form a motorbus company to serve the Pongaroa road.
One of the Clarkson steamers belonging to the National Steam Car Co.'s fleet recently performed an excellent run, in the course of private hire, from Chelmsford to Yarmouth and back, with 34 passengers, the total distance being approximately 200 miles. A start was made from Chelmsford at 6 a.m. on the day of the outward journey, and Yarmouth was reached at 1 p.m. ; the return journey was started at 5 p.m., and Chelmsford was reached at 2.30 a.m. on the following morning. There was not, a single involuntary stop on either trip. Norwegian Boy Scouts Entertained in Coventry.
During the recent Imperial Boy Scouts' Rally at Birmingham, the Norwegian contingent, at the invitation of Mr. P. A. Poppe (of White and Poppe, Ltd.), was entertained at Coventry. Our illustration shows the boys being conducted through Coventry and district on a Maudslay two-ton lorry converted into a chariebancs. After visiting various works and places of historical interest in the district, they were entertained to lunch at Mr. Poppe's house. Mr. Poppe's two sons, who belong to the Coventry troop, thus had an opportunity to fraternize with boys of the same nationality as their father. Mr. Poppe's elder son is seen seated next the driver.
Nowadays, in all successful engineering and industrial establishments, manufacturers naturally insist that the various component parts being constructed have uninterrupted sequence in their different stages of completion throughout the workshops. This saving of delay is undoubtedly necessary to ensure a satisfactory balancesheet at the end of the year. Consistently and systematically to enforce a sequence of operations without delay means that copies of working drawings, specifications, special instruction forms and workshop notices must be issued simultaneously to the different departments—from the pattern-shop right through to the finished stores—as quickly as possible. To this end we bring before our readers' notice a unique and compact equipment in the form of the Photostat. The outfit is marketed by the wellknown concern of Alfred Herbert Ltd., Coventry, and similar machines are now in use in many Government departments, engineering establishments, railway cornpanies, and libraries both at home and abroad. The Photostat takes the form of a camera provided with a prism in front of the lens for neutralizing the reversal of the drawing or subject to be copied. The outfit is quite self-contained for the production of a .completed print in so far that. the developing tank and paper are not touched or interfered with during the process of completing a copy. The standard frame supplied with the outfit accommodates drawings up to 26 ins. by 29.i. ins. a larger table can be supplied which will accommodate double-elephant, size, i.e., 40 ins. by 27 ins., both tables being interchangeable. The light-tight magazine is capable of holding 350 ft. of sensitized paper HI wide, a device being provided for nit
mechanically rolling and cutting off 7 ins. or 14 ins, lengths as desired. For focussing ordinary drawings or pictures, a rack and pinion adjustment is provided, the usual form of ground-glass screen having been dispensed with, whereby much time is saved in focussing. The Photostat will quickly make a facsimile reproduction of the subject, copies being printed, developed, fixed, washed and dried within a few moments after placing the work in the frame. Pencil drawings are reproduced very clearly and distinctly, thus there is no need for making a tracing from the original, as is usually the case when securing blue prints. We understand that since the adoption of a machine in the company's own works, the concern has been enabled to close the trac ing office, which formerly employed ten tracers. An advantage which will appeal to many is that considerable time usually spent in carefully checking tracings is at once eliminated. The finished print comes out quite sharp with white lines on a dark background, there being no dazzling effect to the eyes, and the print is quite easy to read. For copying colour-work, a suitable form of colour-screen is provided. A feature which will no doubt be appreciated by manufacturers is that all copies turned out by the Photostat arc of uniform size, thus enabling a very compactr and easily constructed storing device to be employed. We might mention that one of these machines may be seen in use at the Kodak Co.'s showrooms, Strand, W:C.