Are Some Tractors Too Powerful?
2nd October 1913
Page 4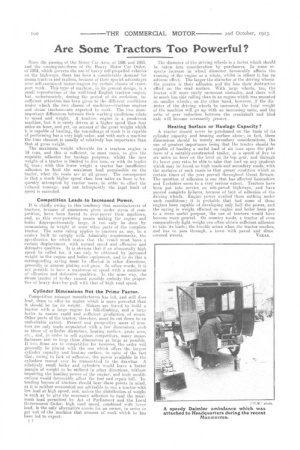 Page 4, 2nd October 1913 —
Are Some Tractors Too Powerful?
Close
Since the passing of the Motor Car Acts, of 1896 and 1903, and the corning-into-force of the Heavy Motor Car Order, of 1904, which governs the use of heavy self-propelled vehicles on the highways; there has been a considerable demand fur steam tractors and trailers, because of their special advantages over self-contained motor-wagons for certain classes of transport work. This type of machine, in its general design, is A small reproduction of the well-tried English traction engine, but, unfortunately, during the period of its evolution, insufficient attention has been given to the different conditions under which the two classes of machines—traction engines and steam tractors—are expected to work. The two mostimportant differences between their working conditions relate to speed and weight. A traction engine is a ponderous machine, but it is rarely driven at a higher speed than four miles an hour, and yet, on account of the great weight which it is capable of hauling, the ton-mileage of work it is capable of performing has a very high value, and with such a machine the time element is usually of relatively less importance than that of gross weight.
The maximum weight allowable for a traction engine is 14 torts, and this is sufficient, in most cases, to give the requisite adhesion for haulage purposes, whilst the tare weight of a tractor is limited to five tons, or with its trailer 6!, tons; with this lower weight. a tractor has insufficient adhesion to haul the maximuni load permissible on the trailer, when the roads are at all greasy. The consequence is that a much higher speed than four miles an hour is frequently attempted by tractor users, in order to offset the reduced tonnage, and not infrequently the legal limit of speed is exceeded.
Competition Leads to Increased Power.
It is chiefly owing to this tendency that manufacturers of tractors, because of guarantees given 'under stress of competition, have been forced to overpower their machines, and, as this aver-powering means making the engine and boiler disproportionately large, it. can only be done by economizing in weight at -some other parts of the complete tractor. The same ruling applies to tractors as, say, to a cruiser built to comply with Admiralty requirements, the specification for which states that the vessel must have a certain displacement, with normal speed and offensive and defensive qualities. It is obvious that if an abnormally high speedbe called for, it can only be obtained by increased weight in the engine arid boiler equipment, and to do this a corresponding saving must be effected in other directions, generally in armour plating and guns. In other words, it is not possible to have a maximum of speed with a maximum of offensive and defensive qualities. In the same way, the steam tractor of to-day cannot possibly embody the properties of heavy drawbar pull with that of high road speed.
Cylinder Dimensions Not the Prime Factor.
Competition amongst. manufacturers has led, and still does lead, them to offer art engine which is more powerful than it should be for its weight. Makers are forced to build a tractor with a large engine for hill-climbing, and a large boiler to ensure rapid and sufficient production of steam. Other parts of the tractor, therefore, must be cut down to an undesirable extent. Present and prospective users of tractors are only made acquainted with a few dimensions, such as those of cylinder diameters, heating surface, grate area, etc., and, in order to sell against competitors, many manufacturers aim to keep these dimensions as large as possible. If two firms are in competition for business, the order will generally he placed with the one which offers the largest cylinder capacity and heating surface, in spite of the fact that, owing to lack of adhesion, the power available in the cylinders cannot ever be transmitted to the drawbar. A relatively small boiler and cylinders would leave a better margin of weight to be utilized in other directions, without impairing the hauling power cf the engine, and such modifications would favourably affect the fuel and repair bill. Intending buyers of tractors should bear these points in mind, as it is neither economical nor advisable to run a tractor with low load at high speed, and, unless the distribution of weight is such as to give the necessary adhesion to haul the maximum load permitted by Act of Parliament and the Local Government Order, high road speed, combined with lower load, is the only alternative course for an owner, in order to get. out of the machine that amount of work which he has been led to expect.
The diameter of the driving wheels is a factor which should be taken into consideration by purchasers. In some respects increase in wheel diameter favourably affects the running of the engine as a whole, whilst in others it has an adverse effect. The larger the diameter of the driving wheels the greater is their adhesion arid the less their destructive effect on the road surface. With large wheels, too, the tractor will more easily surmount obstacles, and there will be much less side rolling than in an engine which was mounted on smaller wheels; on the other hand, however, if the diameter of the driving wheels be increased, the total weight of the machine will go up with an increasing ratio, and the ratio of gear reduction between the crankshaft and hind axle will become necessarily greater.
Heating Surface or Haulage Capacity?
A tractor should never be purchased on the basis of its cylinder capacity and heating surface alone ; in fact, these dimensions should be merely secondary considerations, the one of greatest importance being that the tractor should be capable of hauling a useful load of six tons upon the platform of a .suitably-constructed trailer, at a speed of five to six miles an hour on the level on its top gear, and through ita lower gear ratio be able to take that load up any gradient which may be found on high roads and secondary roads, with the surfaces of such roads in that greasy condition which at certain times of the year prevail throughout Great Britain. The question of adhesion is one that has affected Lancashire and Yorkshire users to a very serious extent. Tractors have been put into service on sett-paved highways, and have proved complete failures, because of lack of adhesion of the driving wheels. Engine power availed them nothing under such conditions; it is probable that had some of those engines been capable of developing only half the power, and the saving in weight. effected on engine and boiler been put to a more useful purpose, the use of tractors would have become more general. On country roads, a tractor of even comparatively light weight can often obtain sufficient. adhesion to take its loads; the trouble arises when the tractor reaches, and has to pass through, a town with paved and slime covered streets. VERAX.