One Hears
2nd October 1913
Page 11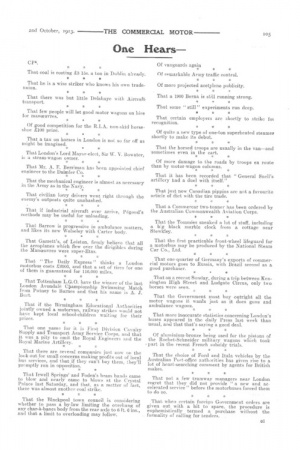 Page 11, 2nd October 1913 —
One Hears
Close
That coal is costing £3 13s. a ton in Dublin already.
That he is a wise striker who knows his own tradeunion.
That there was but little Delabaye with Aircraft transport.
That few people will let good motor wagons on hire for manceuvres.
Of good competition for the R.I.A. non-skid horseshoe £100 prize.
That a tax on horses hi London is not so far off as might be imagined.
That London's Lord Mayor-elect, Sir W. V. Bowater, is a steam-wagon owner.
That Mr. A. E. Berrimau has been appointed chief engineer to the Daimler Co.
That the mechanical engineer is almost as necessary in the Army as in the Navy.
That civilian lorry drivers went right through the enemy's outposts quite unabashed.
That if industrial aircraft ever arrive, Pep-1.1(1's methods may be useful for unloading.
That Barrow is progressive in ambulance matters, and likes its new Wolseley with Carter body.
That Garrett's, of Leiston, firmly believe that all the aeroplanes which flew over the dirigibles during the Manceuvres were super-Etas.
That "The Daily Express" thinks a. London motorbus costs £2000, and that a set of tires for one of them is guaranteed for 116,000 miles.
That Tottenham L.G.O. have the winner of the last London Avondale Cbampionship Swimming Match from Putney to Barnes and that his name is A. J. Burt.
That if the Birmingham Educational Authorities jointly owned a motorvan, railway strikes would not have kept local school-children waiting for their prizes.
That one name for it is First Division Cavalry Supply and Transport Army Service Corps, and that it was a pity to omit the Royal Engineers and the Royal Marine Artillery.
That there are several companies just now on the look-out for small concerns making profits out of local bus services, and that if they can't buy them, they'll promptly run in opposition.
That Irwell Springs' and Foden's brass bands came to blow and nearly came to blows at the Crystal Palace last Saturday, and that, as a matter of fact, there was almost another coal strike.
That the Blackpool town council is considering whether to pass a by-law limiting the overhang of any char-k-bancs body from the rear axle to 6 ft. 6 ms., and that a limit to overloading may follow. Of vanguards again Of remarkable Army traffic control.
Of more projected acetylene publicity. That a 1900 Berna is still running strong. That some " still " experiments run deep.
That certain employers are shortly to strike fot recognition.
Of quite a new type of one-ton superheated steamer shortly to make its debut.
That. the horsed troops are usually in the van—and sometimes even in the cart.
Of more damage to the roads by troops en route than by motor-wagon columns.
That it has been recorded that " General Snell's artillery had a duel with itself."
That just now Canadian pippins are not a favourite article of diet with the tire trade.
That a Cornmercar two-tonner has been ordered by the Australian Commonwealth Aviation Corps.
That the Tommies sneaked a lot of stuff, including a big black marble clock from a cottage near Ste wkley.
That the first practicable front-wheel lifeguard for a motorbus may be produced by the National Steam Car Co., Ltd.
That. one•quarter of Germany's exports of commercial motors goes to Russia, with Brazil second as a good purchaser.
That on a recent Sunday, during a trip between Kensington High Street and .Ludgate Circus, only two horses were seen.
That the Government must buy outright all the motor wagons it wants just as it does guns and ambulance wagons.
That more inaccurate statistics concerning London's buses appeared in the daily Press last week than usual, and that that's saying a good deal.
Of aluminium-bronze being used for the pistons of the Rochet-Schneider military wagons which took part in the recent French subsidy trials.
That the choice of Ford and Itala vehicles by the Australian Post-office authorities has given rise to a lot of heart-searching comment by agents for British makes.
That. not a few tramway managers near London regret. that they did not provide "a new and accelerated service" before the motorbuses forced them to do so.
That when certain foreign Government orders are given out with a bit to spare, the procedure is euphemistically termed a purchase without the formality of calling, for tenders. .