BUS CRITICISM REBUTTED BY TRANSPORT MANAGER
2nd March 1940
Page 34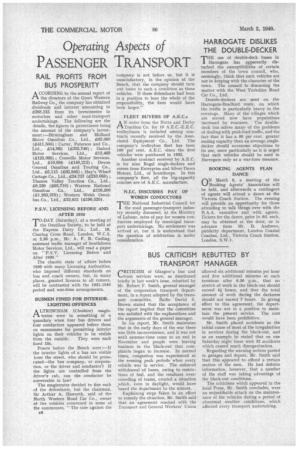 Page 34, 2nd March 1940 —
BUS CRITICISM REBUTTED BY TRANSPORT MANAGER
Close
rRITICISM of Glasgow's bus and .—.tram services were, as mentioned briefly in last week's issue, rebutted by Mr. Robert F. Smith, general manager of the corporation transport department, in a report adopted by the transport committee. Bailie David S. Brown stated that the acceptance of the report implied that the committee was satisfied with the explanations and the arguments of the general manager.
In his report, Mr. Smith maintains that in the early days of the war there was little inconvenience, and it was not until summer-time came to an end in November and people were leaving business in the black-out that complaints began to increase. In normal times, congestion was experienced at the evening peak periods when every vehicle was in service. The enforced withdrawal of buses, owing to restrictions of fuel, and the resultant overcrowding of trams, created a situation which, even in daylight, would have taxed the department to the utmost.
Explaining steps taken in an effort to remedy the situation, Mr. Smith said that an agreement leached with the Transport and General Workers' Union allowed six additional minutes per hour and five additional minutes at each terminus after 6.30 p.m., that no stretch of work in the black-out should exceed 4/ hours, and that the total amount of work during the darkness should not exceed 7 hours. In giving effect to this agreement, the department was not in a position to maintain the present service. The cost would have been prohibitive.
Mr. Smith placed accidents as the initial cause of most of the irregularities in services during the black-out, and as an example he stated that on one Saturday night there were 32 accidents which caused much disorganization.
Regarding the warning notices posted in garages and depots, Mr. Smith said that this appeared to offend a certain section of the men. He had definite information, however, that a number of the staff was taking advantage of the black-out conditions.
The criticisms which appeared in the local Press, Mr. Smith concludes, were an unjustifiable attack on the maintenance of the vehicles during a period of abnormal weather conditions, which affected every transport undertaking.