Gas Not Only An Emergency Fuel
2nd March 1940
Page 32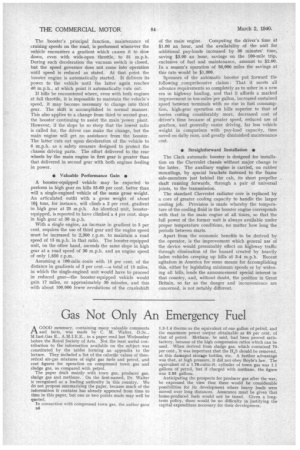 Page 32, 2nd March 1940 —
Gas Not Only An Emergency Fuel
Close
Keywords :
Fuel Gas
,
Fuels
,
Gases
,
Coal
,
Anaerobic Digestion
,
Coal Gas
,
Producer Gas
,
Methane
,
Gasoline
,
Natural Gas
,
Environment
AGOOD summary, containing many valuable comments and facts, was made by C. M. Walter, D.Sc., M.Inst.Gas E., A.M.I.E.E., in a paper read last Wednesday before the Royal Society of Arts. Not the least useful contribution to the information available on the subject was constituted by the tables forming an appendix to the lecture. They included a list of the calorific values of theoretical air-gas mixtures of eight gas fuels and petrol, and cost figures for operation on compressed town gas and sludge gas, as compared with petrol.
The paper dealt mainly with town gas, producer gas, sludge gas and methane. On the first-named, Dr. Walter is recognized as a leading authority in this country. We do not propose summarizing the paper, because much of the information it contains has already appeared from time to time in this paper, but one or two points made may well be quoted.
In connection with compressed town gas, the author gave B6
1.3-1.4 therms as the equivalent of one gallon of petrol, and the maximum power output obtainable as 85 per cent, of that of petrol. Methane, he said, had been proved satisfactory, because of the high compression ratios which can be used. When derived from sludge gas, which contained 70. per cent.. 'it was important that the 112S should be removed, as this damaged storage bottles, etc. A further advantage was that, at high pressure, it did not obey Boyle's law. The equivalent of a 1.76-cubic-ft. cylinder of town gas was 1.1 gallons of petrol, but if charged with methane, the figure was 2.85 gallons.
Anticipating the prospects for producer gas after the war, he expressed the view that there would be considerable possibilities for its development where heavy loads were moved over Icing distances. Assurance must be given that home-produced fuels would not be taxed. Given a longterm policy, there would be no difficulty in justifying the capital expenditure necessary for their development.