Mixer Trailer for fast road travel
2nd March 1940
Page 26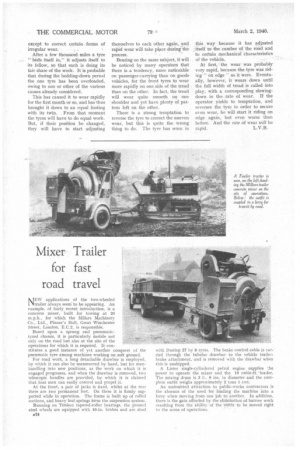 Page 26, 2nd March 1940 —
Mixer Trailer for fast road travel
Close
NEwapplications of the two-wheeled trailer always seern-to be appearing. An example, of fairly recent introduction, is a concrete mixer, built for towing at 20 m.p.h., for which the Millars Machinery Co., Ltd., Pinner's Hall, Great Winchester Street, London, E.C.2, is responsible.
Based upon a sprung and pneumatictyred chassis, it is particularly mobile not only on the road but also at the site of the operations for which it is required. It constitutes a good instance of yet another conquest of the pneumatic tyre among machines working on soft ground.
For road work, a long detachable drawbar is employed, by which it can also be manreuvred by hand, but for manhandling into new positions, as the work on which it is engaged progresses, and when the drawbar is removed, two telescopic handles are provided, by which it is claimed that four men can easily control and propel it.
At the front, a pair of jacks is fixed, whilst at the rear there are two permanent feet. On these it is firmly supported while in operation. The frame is built up of rolled sections, and heavy leaf springs form the suspension system. Running on Timken tapered-roller bearings, the pressed steel wheels are equipped with 10-in, brakes and are shod *24
with Dunlop 27 by 6 tyres. The brake control cable is carried through the tubular drawbar to the vehicle trailerbrake attachment, and is removed with the.drawhar when this is unshipped.
A Lister single-cylindered petrol engine supplies the power to operate the mixer and the 10 cubic-ft. loader. The mixing drum is .3 ft.3 ins. in diameter and the complete outfit weighs approximately 2 tons I cwt.
An undoubted attraction to public-works contractors is the absence of the need for loading the machine into a lorry when moving from one job to another. In addition. there is the gain afforded by the elimination of barrow work resulting from the ability of the 'pritfit to be moved right to the scene of operations.