• One Hears
2nd March 1940
Page 19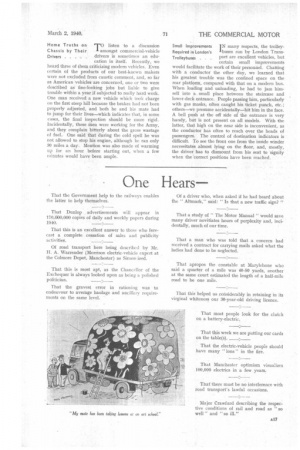 Page 19, 2nd March 1940 —
• One Hears
Close
That the Government help to the railways enables the latter to help 'themselves.
That Dunlop advertisements will appear in 176,000,000 copies of daily and weekly papers during 1940.
That this is an excellent answer to those who forecast a complete cessation of sales and publicity activities.
Of road transport here being described by Mr. H. A. Warrender (Morrison electric-vehicle expert at the Colmore Depot, Manchester) as Sinion-ized.
That this is most apt, as the Chancellor of the Exchequer is always looked upon as being a polished politician.
That the gravest error in rationing was to endeavour to average haulage and ancillary requirements on the same level.
Of a driver who, when asked if he had heard about fhe " Altmark," said: "Is that a new traffic sign? "
That a study of " The Motor Manual "would save many driver novitiates hours of perplexity and, incidentally, much of our time.
That a man who was told that a concern had received a contract for carrying mails asked what the ladies had done to be neglected.
That apropos the constable at Marylebone who said a quarter of a mile was 40-50 yards, another at the same court estimated the length of a half-mile road to be one mile.
That this helped us considerably in retaining in its virginal whiteness our 30-year-old driving licence.
That most people look for the clutch on a battery-electric.
That this week we are putting our cards on the table(s) That the electric-vehicle people should have many " ions " in the fire.
That Manchester optimism visualizes 100,000 electrics in a few years.
That there must be no interference with road transport's lawful occasions.
Major Crawfurd describing the respective conditions of rail and road as "so well" and "so ill."