P assing Comments Act Too A NENT the comment we I -1
2nd March 1940
Page 18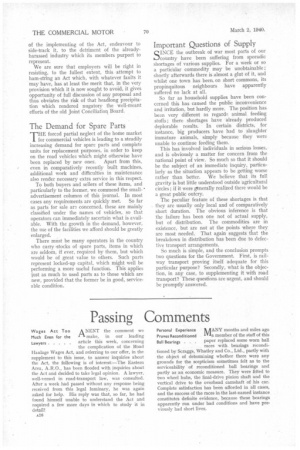 Page 19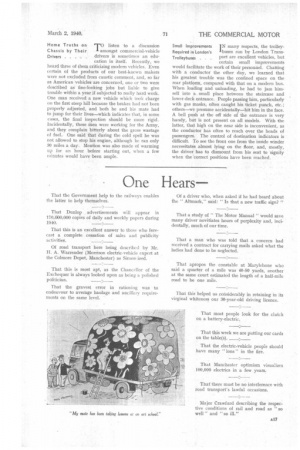 Page 18, 2nd March 1940 —
P assing Comments Act Too A NENT the comment we I -1
Close
make, in our . leading article this week, concerning the complication of the Road Haulage Wages Act, and referring to our offer, in the supplement to this issue, to answer inquiries about the Act, the following is of interest:—The Eastern Area, A.R.O., has been flooded with inquiries about the Act and decided to take legal opinion. A lawyer, well-versed in road-transport law, was consulted. After a week had passed without any response being received from this legal luminary, he was again asked for help. His reply was that, so far, he had found himself unable to understand the Act and required a few more days in which to study it in detail!
Wages Much Even for the
Lawyers Personal Experience IVIANY months and miles ago Proves Reconditioned iVla member of the staff of this Ball Bearings . . . paper replaced some worn ball
races with bearings reconditioned by Scraggs, Whatley and Co., Ltd., partly with the object of determining whether there were any grounds for the scepticism sometimes felt as to the serviceability of reconditioned ball bearings and partly as an economic. measure. They were fitted to two wheel hubs, the final-drive pinion shaft and the vertical drive to the overhead camshaft of his car. Complete satisfaction has been afforded in all cases, and the success of the races in the last-named instance constitutes definite evidence, because these bearings apparently run under bad conditions and have previously had short lives. Home Truths on TO listen to a discussion Chassis by Their I amongst commercial-vehicle Drivers drivers is sometimes an edu cation in itself. Recently, we heard three of them criticizing modern vehicles. Even certain of the products of our best-known makers were not excluded from caustic comment, and, so far as American vehicles are concerned, one or two were described as fine-looking jobs but liable to give trouble within a year if subjected to really hard work. One man received a new vehicle which took charge on the first steep hill because the brakes had not been properly adjusted, and both he and his mate had to jump for their lives—which indicates that, in some cases, the final inspection should be more rigid. Incidentally, these men were working for the Army, and they complain bitterly about the gross wastage of fuel. One said that during the cold spell he was not allowed to stop his engine, although he ran only 30 miles a day. Mention was also made of warming up for an hour before starting out, when a few minutes would have been ample. Small Improvements I N many respects, the trolley Required in London's buses run by London Trans Trolleybuses . . . port are excellent vehicles, but certain small improvements would facilitate the work of their personnel. Chatting with a conductor the other day, we learned that his greatest trouble was the confined space on the rear platform, compared with that on a modern bus. When loading and unloading, he had to jam himself into a small place between the staircase and lower-deck entrance. People passing him, particularly with gas masks, often caught his ticket punch, etc.; others—we presume accidentally—hit him in the face. A bell push at the off side of the entrance is very handy, but is not present on all models. With the latter, that high on the near side is inconvenient, as the conductor has often to reach over the heads of passengers. The control of destination indicators is difficult. To see the front one from the inside winder necessitates almost lying on the floor, and, mostly, the driver has to dismount from his seat to signify when the correct positions have been reached.