• With its new LTAA10-325, Cummins has turned to air-to-air
2nd June 1988
Page 43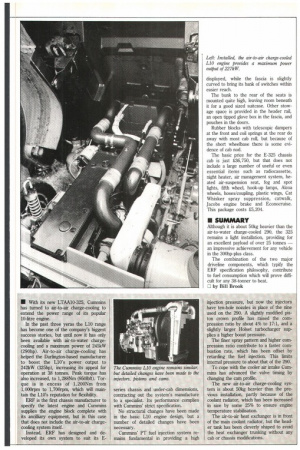 Page 43, 2nd June 1988 —
• With its new LTAA10-325, Cummins has turned to air-to-air
Close
charge-cooling to extend the power range of its popular 10-litre engine.
In the past three yeras the L10 range has become one of the company's biggest success stories, but until now it has only been available with air-to-water chargecooling and a maximum power of 245kW (290hp). Air-to-air charge-cooling has helped the Darlington-based manufacturer to boost the L10's power output to 242kW (325hp), increasing its appeal for operation at 38 tonnes. Peak torque has also increased, to 1,288Nm (950Ibft). Torque is in excess of 1,200Nm from 1,000rprn to 1,700rpm, which will maintain the L10's reputation for flexibility.
ERF is the first chassis manufacturer to specify the latest engine and Cummins supplies the engine block complete with its ancilliary equipment, but in this case that does not include the air-to-air chargecooling system itself.
Instead, ERF has designed and developed its own system to suit its E series chassis and under-cab dimensions, contacting out the system's manufacture to a specialist. Its performance complies with Cummins' strict specification.
No structural changes have been made in the basic L10 engine design, but a number of detailed changes have been necessary.
Cummins' PT fuel injection system remains fundamental in providing a high injection pressure, but now the injectors have ten-hole nozzles in place of the nine used on the 290. A slightly modified piston crown profile has raised the compression ratio by about 4% to 17:1, and a slightly larger Holset turbocharger supplies a higher boost pressure.
The finer spray pattern and higher compression ratio contribute to a faster combustion rate, which has been offset by retarding the fuel injection. This limits internal pressure to about that of the 290.
To cope with the cooler air intake Cummins has advanced the valve timing by changing the cam profile.
The new air-to-air charge-cooling system is about 50kg heavier than the previous installation, partly because of the coolant radiator, which has been increased in size by some 25% to ensure engine temperature stabilisation.
The air-to-air heat exchanger is in front of the main coolant radiator, but the header tank has been cleverly shaped to avoid the heat exchanger trunking without any cab or chassis modifications.