• When ERF became the first chassis manufacturer to specify
2nd June 1988
Page 40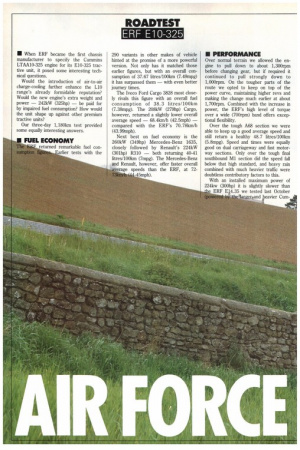 Page 42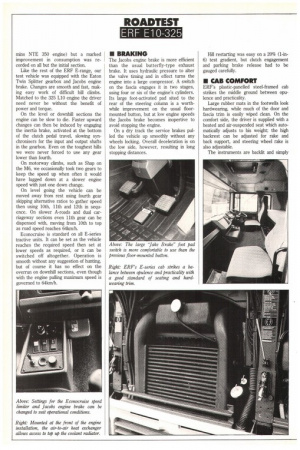 Page 43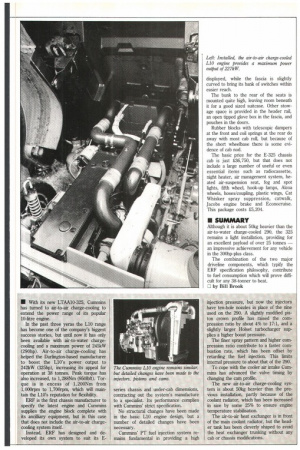 Page 40, 2nd June 1988 —
• When ERF became the first chassis manufacturer to specify
Close
the Cummins LTAA10-325 engine for its E10-325 tractive unit, it posed some interesting technical questions.
Would the introduction of air-to-air charge-cooling further enhance the L10 range's already formidable reputation? Would the new engine's extra weight and power — 242kW (325hp) — be paid for by impaired fuel consumption? How would the unit shape up against other premium tractive units?
Our three-day 1,180Iun test provided some equally interesting answers.
FUEL ECONOMY
returned remarkable fuel conarlier tests with the 290 variants in other makes of vehicle hinted at the promise of a more powerful version. Not only has it matched those earlier figures, but with an overall consumption of 37.67 litres/100km (7.49mpg) it has surpassed them — with even better journey times.
The Iveco Ford Cargo 3828 most closely rivals this figure with an overall fuel consumption of 38.3 litres/100km (7.38mpg). The 208kW (279hp) Cargo, however, returned a slightly lower overall average speed — 68.4km/h (42.5mph) — compared with the ERF's 70.78km/h (43.99mph).
Next best on fuel economy is the 260kW (349hp) Mercedes-Benz 1635, closely followed by Renault's 224kW (301hp) R310 — both returning 40-41 litres/100km (7mpg). The Mercedes-Benz and Renault, however, offer faster overall erage speeds than the ERF, at 72-45mph).
• PERFORMANCE
Over normal terrain we allowed the engine to pull down to about 1,300rpm before changing gear, but if required it continued to pull strongly down to 1,000rpm. On the tougher parts of the route we opted to keep on top of the power curve, maintaining higher revs and making the change much earlier at about 1,700rpm. Combined with the increase in power, the ERF's high level of torque over a wide (700rpm) band offers exceptional flexibility.
Over the tough A68 section we were able to keep up a good average speed and still return a healthy 48.7 litres/100km (5.8mpg). Speed and times were equally good on dual carriageway and fast motorway sections. Only over the tough final southbound M1 section did the speed fall below that high standard, and heavy rain combined with much heavier traffic were doubtless contributory factors to this.
With an installed maximum power of 224kw (300hp) it is slightly slower than ERF E 4.35 we tested last October and eavier Cum nuns NTE 350 engine) but a marked improvement in consumption was recorded on all but the initial section.
Like the rest of the ERF E-range, our test vehicle was equipped with the Eaton Twin Splitter gearbox and Jacobs engine brake. Changes are smooth and fast, making easy work of difficult hill climbs. Matched to the 325 L10 engine the driver need never be without the benefit of power and torque.
On the level or downhill sections the engine can be slow to die. Faster upward changes can then be induced by engaging the inertia brake, activated at the bottom of the clutch pedal travel, slowing synchronisers for the input and output shafts in the gearbox. Even on the toughest hills we were never forced to use any gear lower than fourth.
On motorway climbs, such as Shap on the M6, we occasionally took two gears to keep the speed up when often it would have lugged down at a slower engine speed with just one down change.
On level going the vehicle can be moved away from rest using fourth gear skipping alternative ratios to gather speed then using 10th, 11th and 12th in sequence. On slower A-roads and dual carriageway sections even 11th gear can be dispensed with, moving from lath to top as road speed reaches 64kmth.
Econocruise is standard on all E-Series tractive units. It can be set as the vehicle reaches the required speed then set at lower speeds as required, or it can be switched off altogether. Operation is smooth without any suggestion of hunting, but of course it has no effect on the overrun on downhill sections, even though with the engine pulling maximum speed is governed to 64km/h.
• BRAKING
The Jacobs engine brake is more efficient than the usual butterfly-type exhaust brake. It uses hydraulic pressure to alter the valve timing and in effect turns the engine into a large compressor. A switch on the fascia engages it in two stages, using four or six of the engine's cylinders. Its large foot-activated pad sited to the rear of the steering column is a worthwhile improvement on the usual floormounted button, but at low engine speeds the Jacobs brake becomes inopertive to avoid stopping the engine.
On a dry track the service brakes pulled the vehicle up smoothly without any wheels locking. Overall deceleration is on the low side, however, resulting in long stopping distances. Hill restarting was easy on a 20% (1-in6) test gradient, but clutch engagement and parking brake release had to be gauged carefully.
• CAB COMFORT
ERF's plastic-panelled steel-framed cab strikes the middle ground between opulence and practicality.
Large rubber mats in the footweils look hardwearing, while much of the door and fascia trim is easily wiped clean. On the comfort side, the driver is supplied with a heated and air-suspended seat which automatically adjusts to his weight; the high backrest can be adjusted for rake and back support, and steering wheel rake is also adjustable.
The instruments are backlit and simply displayed, while the fascia is slightly curved to bring its bank of switches within easier reach.
The bunk to the rear of the seats is mounted quite high, leaving room beneath it for a good sized suitcase. Other stowage space is provided in the header rail, an open tipped glove box in the fascia, and pouches in the doors.
Rubber blocks with telescopic dampers at the front and coil springs at the rear do away with most cab roll, but because of the short wheelbase there is some evidence of cab nod.
The basic price for the E-325 chassis cab is just £36,750, but that does not include a large number of useful or even essential items such as radiocassette, night heater, air management system, heated air-suspension seat, fog and spot lights, fifth wheel, hook-up lamps, Alcoa wheels, hoses/coupling, plastic wings, Cat Whisker spray suppression, catwalk, Jacobs engine brake and Econocruise. This package costs £5,204.
• SUMMARY
Although it is about 50kg heavier than the air-to-water charge-cooled 290, the 325 remains a light installation, providing for an excellent payload of over 25 tonnes — an impressive achievement for any vehicle in the 300hp-plus class.
The combination of the two major driveline components, which typify the ERF specification philosophy, contribute to fuel consumption which will prove difficult for any 38-tonner to beat.
CI by Bill Brook