Road damage assessment queried
2nd July 1992
Page 8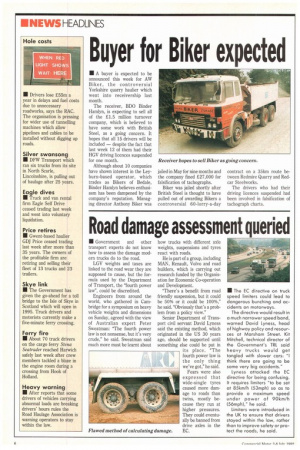 Page 8, 2nd July 1992 —
Road damage assessment queried
Close
• Government and other transport experts do not know how to assess the damage modern trucks do to the road.
LGV weights and taxes are linked to the road wear they are supposed to cause, but the formula used by the Department of Transport, the "fourth power law", could be discredited.
Engineers from around the world, who gathered in Cambridge for a symposium on heavy vehicle weights and dimensions on Sunday, agreed with the view of Australian expert Peter Sweatman: "The fourth power law is not nonsense, but it's very crude," he said. Sweatman said much more must be learnt about how trucks with different axle weights, suspensions and tyres react with roads.
He is part of a group, including MAN, Renault, Volvo and road builders, which is carrying out research funded by the Organisation for Economic Co-operation and Development.
"There's a benefit from road friendly suspension, but it could be 50% or it could be 100%," he said. "Obviously that's a problem from a policy view."
Senior Department of Transport civil servant David Lyness said the existing method, which originated in the US 30 years ago, should be supported until something else could be put in its place. "The fourth power law is the only thing we've got," he said.
Fears were also expressed that wide-single tyres caused more damage to roads than twins, mostly because they run at higher pressures. They could eventually be banned from drive axles in the EC. • The EC directive on truck speed limiters could lead to dangerous bunching and accidents on motorways.
The directive would result in a much narrower speed band, warned David Lyness, head of highway policy and resources at Marsham Street. Kit Mitchell, technical director of the Government's TRL said heavy trucks would get tangled with slower cars: "I think there are going to be some very big accidents."
Lyness attacked the EC directive for being confusing. It requires limiters "to be set at 85km/h (53mph) so as to provide a maximum speed under power of 90km/h (56mph)," he said.
Limiters were introduced in the UK to ensure that drivers stayed within the law, rather than to improve safety or protect the roads, he said.