Hole costs • Drivers lose £.55m a year in delays
2nd July 1992
Page 8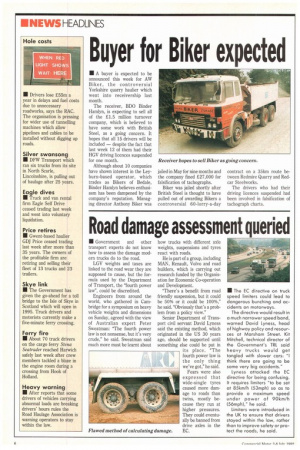 Page 8, 2nd July 1992 —
Hole costs • Drivers lose £.55m a year in delays
Close
and fuel costs due to unnecessary roadworks, says the RAC. The organisation is pressing for wider use of tunnelling machines which allow pipelines and cables to be installed without digging up roads.
Silver swansong • DFW Transport which ran six trucks from its site in North Scarle, Lincolnshire, is pulling out of haulage after 25 years.
Eagle dives • Truck and van rental firm Eagle Self Drive ceased trading last week and went into voluntary liquidation.
Price retires • Gwent-based haulier GDJ Price ceased trading last week after more than 35 years. The owners of the profitable firm are retiring and selling their fleet of 13 trucks and 23 trailers.
Skye link • The Government has given the go-ahead for a toll bridge to the Isle of Skye in Scotland which will open in 1995. Truck drivers and motorists currently make a five-minute ferry crossing.
Ferry fire • About 70 truck drivers on the cargo ferry Stena Sea trader reached Harwich safely last week after crew members tackled a blaze in the engine room during a crossing from Hook of Holland.
Heavy warning • After reports that some drivers of vehicles carrying abnormal loads are breaking drivers' hours rules the Road Haulage Association is warning operators to stay within the law.