Counties to monitor rail-to-road shifting
2nd July 1992
Page 6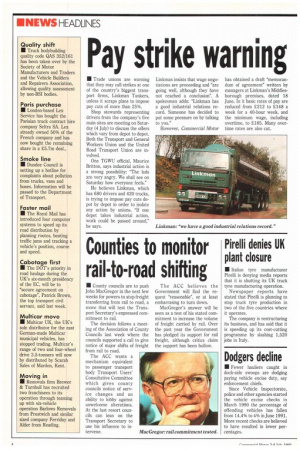 Page 6, 2nd July 1992 —
Counties to monitor rail-to-road shifting
Close
Keywords :
• County councils are to push John MacGregor in the next few weeks for powers to stop freight transferring from rail to road, a move that will test the Transport Secretary's expressed commitment to rail.
The decision follows a meeting of the Association of County Councils last week where the councils supported a call to give notice of major shifts of freight from rail to road.
The ACC wants a mechanism equivalent to passenger transport body Transport Users' Consultative Committee which gives county councils notice of service changes and an ability to lobby against unwelcome alterations. At the last resort councils can lean on the Transport Secretary to use his influence to intervene. The ACC believes the Government will find the request "reasonable", or at least embarrasing to turn down.
MacGregor's answer will be seen as a test of his stated commitment to increase the volume of freight carried by rail. Over the past year the Government has pledged its support for rail freight, although critics claim the support has been hollow.