LOCK IT OR
2nd July 1992
Page 36
Page 37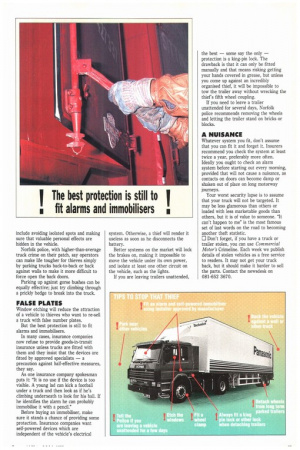 Page 36, 2nd July 1992 —
LOCK IT OR
Close
1.0T51 Parts of the country are becoming no-go areas for unattended LGVs. Can operators do anything to deter the villains or is having your truck stolen an occupational hazard? • David Allison's AWD disappeared much quicker than its manufacturer. His TL814 7.5-tonne curtainsider became another lorry theft statistic in May, when it was stolen overnight from its regular parking place at Long Eaton, Notts (Crimeline. CM 4-10 June).
He is resigned to the fact that it has been broken up for parts and sold on the black market. It certainly wasn't taken for the value of its load, about £100 worth of oranges. But its tyres were fairly new and he reckons the gearbox, engine and axles could have fetched enough to satisfy the thieves.
WASTING TIME
The theft has made Allison realise how easily a truck can be stolen. The remnants of an anti-freeze sticker at the scene was a clue to how the thieves got in. By breaking a quarterlight they could unlock the door and drive off without wasting time or attracting attention.
He doesn't intend to make it so easy for them on his next truck: "1 intend to have a beam fitted in the cab and two or three immobilisers. Even if it means clambering under the truck to get it started in the morning, I feel its worth it."
He is also considering another operator's suggestion: fitting a wheel clamp when parked up for the night.
Allison has also written to Transport Secretary John MacGregor suggesting that log books are checked against chassis and engine plates at annual tests to prevent stolen trucks from being put back on the road with false documents. He is waiting for a reply.
Truck theft is booming. The Association of British Insurers says theft of vehicles — excluding goods-in-transit claims — shot up from £99m in 1989 to £134m in 1990. It is still rising and the ABI says the increase parallels the rise in car crime.
Stockport-based security equipment supplier Jim Maple says criminals have come to regard trucks as a soft target: "Buildings security has become much more sophisticated, and at night now there are probably more goods on the road in trucks than are in warehouses."
But as Allison found out, the truck need not be carrying a load. Maple says: "In the past five years, criminals have gone not just for the load, but for the intrinsic value of the truck. Virtually everything on a truck has a street value of some description."
In some parts of the country, notably Liverpool, there are "no-go areas" for unattended trucks. Some operators instruct their drivers to park in service areas several miles down the M62 just to avoid trouble. Insurance companies say that for parts of Merseyside, Glasgow and within the M25 London orbital route, any truck, regardless of load, should be garaged overnight in a locked building of substantial construction or parked in a secure compound with strong walls and fences.
But even the most secure parking places can be breached. Maple recalls an incident a few years ago where a tipper had been parked overnight between mounds of earth and blocked in by heavy plant. Thieves got in, commandeered an excavator, demolished the mounds and stole the tipper. In any case, not every truck can be locked away every night, so what can you do to protect your vehicle?
Simple precautions include avoiding isolated spots and making sure that valuable personal effects are hidden in the vehicle.
Norfolk police, with higher-than-average truck crime on their patch, say operators can make life tougher for thieves simply by parking trucks back-to-back or back against walls to make it more difficult to force open the back doors.
Parking up against gorse bushes can be equally effective; just try climbing through a prickly hedge to break into the truck.
FALSE PLATES
Window etching will reduce the attraction of a vehicle to thieves who want to re-sell a truck with false number plates.
But the best protection is still to fit alarms and immobilisers, In many cases, insurance companies now refuse to provide goods-in-transit insurance unless trucks are fitted with them and they insist that the devices are fitted by approved specialists — a precaution against half-effective measures, they say.
As one insurance company spokesman puts it: "It is no use if the device is too visible, A young lad can kick a football under a truck and then look as if he's climbing underneath to look for his ball. If he identifies the alarm he can probably immobilise it with a pencil."
Before buying an immobiliser, make sure it stands a chance of providing some protection. Insurance companies want self-powered devices which are independent of the vehicle's electrical system. Otherwise, a thief will render it useless as soon as he disconnects the battery.
Better systems on the market will lock the brakes on, making it impossible to move the vehicle under its own power, and isolate at least one other circuit on the vehicle, such as the lights.
If you are leaving trailers unattended, the best — some say the only — protection is a king-pin lock. The drawback is that it can only be fitted manually and that means risking getting your hands covered in grease, but unless you come up against an incredibly organised thief, it will be impossible to tow the trailer away without wrecking the thief's fifth wheel coupling.
If you need to leave a trailer unattended for several days, Norfolk police recommends removing the wheels and letting the trailer stand on bricks or blocks.
A NUISANCE
Whatever system you fit, don't assume that you can fit it and forget it. Insurers recommend you check the system at least twice a year, preferably more often. Ideally you ought to check an alarm system before starting out every morning, provided that will not cause a nuisance, as contacts on doors can become damp or shaken out of place on long motorway journeys.
Your worst security lapse is to assume that your truck will not be targeted. It may be less glamorous than others or loaded with less marketable goods than others, but it is of value to someone. "It can't happen to me" is the most famous set of last words on the road to becoming another theft statistic.
LI Don't forget, if you have a truck or trailer stolen, you can use Commercial Motor's Crimeline. Each week we publish details of stolen vehicles as a free service to readers. It may not get your truck back, but it should make it harder to sell the parts. Contact the newsdesk on 081-652 3670.