Strap attack
2nd July 1992
Page 34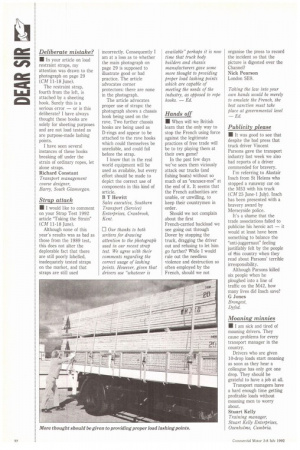 Page 34, 2nd July 1992 —
Strap attack
Close
• I would like to comment on your Strap Test 1992 article "Taking the Strain" (CM 11-18 June).
Although none of this year's results was as bad as those from the 1989 test, this does not alter the deplorable fact that there are still poorly labelled, inadequately tested straps on the market, and that straps are still used incorrectly. Consequently am at a loss as to whether the main photograph on page 29 is supposed to illustrate good or bad practice. The article advocates corner protectors: there are none in the photograph.
The article advocates proper use of straps: the photograph shows a chassis hook being used on the rave. Two further chassis hooks are being used as D-rings and appear to be attached to the rave hooks which could themselves be unreliable, and could fail before the strap.
I know that in the real world equipment will be used as available, but every effort should be made to depict the correct use of components in this kind of article.
B T Hewitt Sales executive, Southern Transport (Service) Enterprises, Cranbrook, Kent.
LI Our thanks to both writers for drawing attention to the photograph used in our recent strap test. We agree with their comments regarding the correct usage of lashing points. However, given that drivers use "whatever is
available" perhaps it is now time that truck body builders and chassis manufacturers gave some more thought to providing proper load lashing points which are capable of meeting the needs of the industry, as opposed to rope hooks. — Ed.