Discharge on lost wheel case
2nd July 1992
Page 19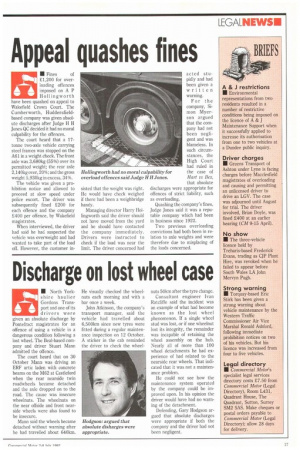 Page 19, 2nd July 1992 —
Discharge on lost wheel case
Close
• North Yorkshire haulier Gordons Transport and one of its drivers were given an absolute discharge by Pontefract magistrates for an offence of using a vehicle in a dangerous condition following a lost wheel. The Beal-based company and driver Stuart Mann admitted the offence.
The court heard that on 30 October Mann was driving an ERF artic laden with concrete beams on the M62 at Castleford when the rear nearside twin roadwheels became detached and the axle dropped on to the road. The cause was insecure wheelnuts. The wheelnuts on the near offside and front nearside wheels were also found to be insecure.
Maim said the wheels became detached without warning after he had travelled about 640km. He visually checked the wheelnuts each morning and with a bar once a week.
John Atkinson, the company's transport manager, said the vehicle had travelled about 6,500km since new tyres were fitted during a regular maintenance inspection on 12 October. A sticker in the cab reminded the driver to check the wheel nuts 50km after the tyre change.
Consultant engineer Ivan Ratcliffe said the incident was an example of what had become known as the lost wheel phenomenon. If a single wheel stud was lost, or if one wheelnut lost its integrity, the remainder was incapable of retaining the wheel assembly on the hub. Nearly all of more than 100 wheel detachments he had experience of had related to the nearside rear wheels. That indicated that it was not a maintenance problem.
He could not see how the maintenance system operated by the company could be improved upon. In his opinion the driver would have had no warning of the detachment.
Defending, Gary Hodgson argued that absolute discharges were appropriate if both the company and the driver had not been negligent.