Insurance premiums set to soar
2nd July 1992
Page 13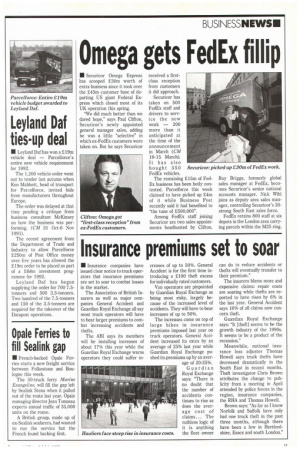 Page 13, 2nd July 1992 —
Insurance premiums set to soar
Close
• Insurance companies have issued clear notice to truck operators that insurance premiums are set to soar to combat losses in the market.
The Association of British Insurers as well as major companies General Accident and Guardian Royal Exchange all say most truck operators will have to bear larger premiums to combat increasing accidents and thefts.
The ABI says its members will be installing increases of about 17% this year while the Guardian Royal Exchange warns operators they could suffer in creases of up to 50%. General Accident is for the first time introducing a £100 theft excess for individually rated customers.
Van operators are pinpointed by Guardian Royal Exchange as being most risky, largely because of the increased level of accidents. They will have to bear increases of up to 50%.
The increases come on top of large hikes in insurance premiums imposed last year on truck operators. General Accident increased its rates by an average of 25% last year while Guardian Royal Exchange pushed its premiums up by an average of 20-25%.
Guardian Royal Exchange says: "There is no doubt that the number of accidents continues to rise as does the average cost of claims The ruthless logic of it is anything the fleet owner can do to reduce accidents or thefts will eventually transfer to their premium."
The insurers blame more and expensive claims: repair costs are soaring while thefts are reported to have risen by 6% in the last year. General Accident says 10% of all claims now concern theft.
Guardian Royal Exchange says: "It [theft] seems to be the growth industry of the 1990s. It seems to be a product of the recession."
Meanwhile, national insurance loss adjuster Thomas Howell says truck thefts have decreased dramatically in the South East in recent months. Theft investigator Chris Brown attributes the change to publicity from a meeting in April attended by police forces in the region, insurance companies, the RHA and Thomas Howell.
Brown says: "As far as I know Norfolk and Suffolk have only had one truck theft in the past three months, although there have been a few in Hertfordshire, Essex and south London."