OTHER VEHICLES.
2nd April 1908
Page 36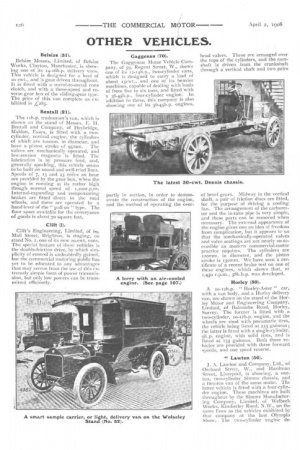 Page 37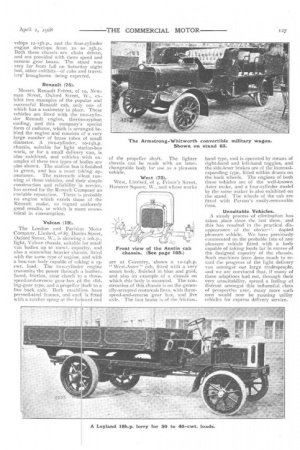 Page 36, 2nd April 1908 —
OTHER VEHICLES.
Close
Belsize (31).
Belsize Motors, Limited, of Belsize Works, Clayton, Manchester, is showing one of its 14-16h.p. delivery vans. This vehicle is designed for a load of to cwt., and is gear driven throughout. It is fitted with a metal-to-metal cone clutch, and with a throe-speed and reverse gear box of the sliding-gear type. The price of this van complete as exhibited is L:285. •
Bentadl (21).
The I th.p. tradesman's van, which is shown on the stand of Messrs. E. H. Bentall and Company, of Heybridge, Maldon, Essex, is fitted with a twocylinder, vertical engine, the cylinders of which are momm. in diameter, and have a piston stroke of 95mm. The valves are mechanically operated, and low-tension magneto is fitted, The lubrication is by pressure feed, and, generally speaking, this vehicle seems to be built on sound and well-tried lines. Speeds of 7, 13 and 25 miles an hour are provided by the gear box, when the engine is running at its rather high though normal speed of 1,200rpm. Internal-expanding and compensating brakes are fitted direct to the road wheels, and these are operated by a hand lever of the " pull on "type. The floor space available for the conveyance of goods is about 70 square feet.
CUR (1).
Clift's Engineering, Limited, of 69, Mail Street, Brighton, is staging, on stand No. t, one of its new 2o-cwt. vans. The special feature of these vehicles is the double-friction drive, by which simplicity of control is undoubtedly gained, but the commercial motoring public has yet to be educated to any advantages that may accrue from the use of this extremely simple form of power transmission, but only low powers can be transmitted efficiently. Gaggenau (70).
The Gaggenau Motor Vehicle Company, of 59, Regent Street, W., shows one of its 12-I4h.p., two-cylinder vans, which is designed to carry a load of about iscwt., and one of its heavier machine, capable of dealing with loads of from five to six tons, and .fitted with a 36-4511.p., four-cylinder engine. In addition to these, this company is also showing one of its 36-45h.p. engines, partly in section, in order to demonstrate the construction of the engine, and the method of operating the over head valves. These are arranged over the tops of the cylinders, and the camshaft is driven from the crankshaft through a vertical shaft and two pairs of bevel gears. Midway in the vertical shaft, a pair of friction discs are fitted, for the purpose of driving a cooling fan. The arrangement of the carburetter and the in-take pipe is very simple, and these parts can be removed when necessary. The external appearance of the engine gives one an idea of freedom from complication, but it appears to us that the mechanically-operated valves and valve seatino-s are not nearly so accessible as modern commercial-motor practice requires. The cylinders are uomm. in diameter, and the piston stroke is 130mm. We have seen a certificate of a recent brake test on one of these engines, which shows that, at I,450 r.p.tn., 58b.h.p. was developed.
Honey (30).
A to-12h.p. " Horley-Aster " car, with a van body, and a Honey delivery van, are shown on the stand of the Horley Motor and Engineering Company, Limited, of Balcombe Road, Honey, Surrey. The former is fitted with a two-cylinder, 10-12h.p. engine, and the wheels are shod with pneumatic tires, the vehicle being listed at 255 guineas; the latter is fitted with a single-cylinder, 9h.p. engine, with solid tires, and is listed at 135 guineas. Both these vehicles are provided with three forward speeds, and one speed reverse.
Lawton (56).
J. A. Lawton and Company, Ltd., of Orchard Street, W., and Hardman Street, Liverpool, is showing, a oneton, two-cylinder Simms chassis, and a two-ten van of the same make. The latter vehicle is fitted with a four-cylinder engine. These machines are built throughout by the Simms Manufacturing Company, Limited, of Welbeck Works, Kimberley Road, N.W., on the same lines as the vehicles exhibited by that company at the last Olympia Show. The two-cylinder engine de
velops 12-1511.p., and the four-cylinder engine develops from 20 to 251a.p. Both these chassis are chain driven, and are provided with three speed and reverse gear boxes. The stand was very far from full on Saturday night last, other exhibits—of cabs and travellers' broughams—being expected.
Renault (75).
Messrs. Renault Freres, of 19, Newman Street, Oxford Street, W., exhibit two examples of the popular and successful Renault cab, only one of which has a taximeter in place. These vehicles are fitted with the two-cylinder Renault engine, thermo-syphon cooling, and this company's special form of radiator, which is arranged behind the engine and consists of a very large number of brass tubes of small diameter. A two-cylinder, to-t4h.p. chassis, suitable for light station-bus work, or for a small delivery van, is also exhibited, and vehicles with examples of these two types of bodies are also shown. The station bus is finished in green, and has a most taking ap
pearance. The extremely silent running of these vehicles, and their simple construction and reliability in service, has earned for the Renault Company an enviable reputation. There is probably no engine which excels those of the Renault make, as regard uniformly good results, or which is more economical in consumption.
Vulcan (19).
The London and Parisian Motor Company, Limited, of 87, Davies Street, Oxford Street, W., is showing a toh.p., light, Vulcan chassis, suitable for small van bodies up to rocwt, capacity, and also a somewhat heavier chassis, fitted with the same type of engine, and with a box-van body capable of taking a 15-. cwt. load. The two-cylinder engine transmits the power through a leatherfaced, friction, cone clutch to a threespeed-and-reverse gear-box of the sliding-gear type, and a propeller ;haft to a live back axle. Both machiles have pressed-steel frames, and earl is fitted with a ratchet sprag at the forward end
of the propeller shaft, The lighter chassis can be made with an interchangeable body for use as a pleasure vehicle.
West (73).
West, Limited, of 4, Prince's Street, Hanover Square, W., and whose works are at Coventry, shows a 12-r4h.p. " West-Aster " cab, fitted with a very smart body, finished in Hue .and gold, and also an eXample of a chassis on which this body is mounted. The construction of this chassis is on the generally-accepted motorcab lines, with threespeed-and-reverse gear box, and live axle. The foot brake is of the friction band type, and is operated by means of right-hand and left-hand toggles, and the side-lever brakes are of the internalexpanding type, fitted within drums on the back wheels. The engines of both these vehicles are of the well-known Aster make, and a four-cylinder model by the same maker is also exhibited on the stand. The wheels of the cab are fitted with Parson's easily-removable rims.
Unsuitable Vehicles.
A steady process of elimination has taken place since the last show, and this has resulted in the practical disappearance of the obvio,..c1:. dapted pleasure vehicleWe have previously commented on the probable fate of any pleasure vehicle fitted with a body capable of taking loads far in excess of the designed capacity of the chassis. Such machines have done much to retard the progress of the light delivery van amongst our large tradespeople, and we are convinced that, if many of these adaptions had not, through their very unsuitability, spread a feeling of distrust amongst this influential class of prospective user, many more such men would now be running utility vehicles for express delivery service.