The Thames Iron Works, Shipbuilding, and Engineering Company, Limited.
2nd April 1908
Page 34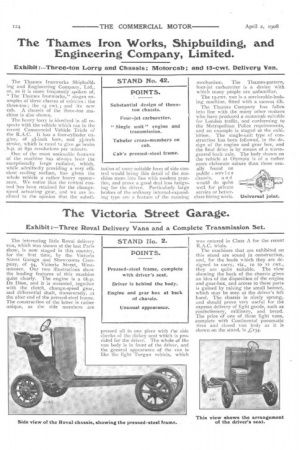 Page 34, 2nd April 1908 —
The Thames Iron Works, Shipbuilding, and Engineering Company, Limited.
Close
Exhibit:—Three-ton Lorry and Chassis; Motorcab; and 15-cwt. Delivery Van.
The Thames Ironworks Shipbuilding and Engineering Company, Ltd., or, as it is more frequently spoken of, " The Thames Ironworks," stages examples of three classes of vehicles : the three-ton ;. the is cwt. ; and its new cab. A chassis of the three-ton machine is also shown.
The heavy lorry is identical in all respects with the vehicle which ran in the recent Commercial Vehicle Trials of the R.A.C. It has a four-cylinder engine, of 4i-inch bore, and 5-inch stroke, which is rated to give 40 brake , h.p. at So revolutions per minute.
One of the most noticeable features of the machine has always been the exceptionally large radiator, which, while admittedly providing a very efficient cooling surface, has given the whole vehicle a rather heavy appearance. We notice that the central control has been retained for the changespeed actuating gear, and we are inclined to the opinion that the substi tution of some suitable form of side control would bring this detail of the machine more into line with modern practice, and prove a good deal less fatiguing for the driver, Particularly large brakes of the ordinary internal-expanding type are a feature of the running mechanism. The Thames-pattern, four-jet carburetter is a device with which many people are unfamiliar.
The 15-cwt. van is a serviceable-looking machine, fitted with a canvas tilt.
The Thames Company has fallen into line with the many other makers who have produced a motorcab suitable for London traffic, and conforming to the Metropolitan Police requirements, and an example is staged at the exhibition. The single-unit type of construction has been followed, in the design of the engine and gear box, and the final drive is by means of a wormgeared back axle. The body shown on the vehicle at Olympia is of a rather more elaborate nature than those usually found on public serv i c e chassis, a n d would do quite well for private service or betterclass hiring work.