The Star Engineering Company.
2nd April 1908
Page 32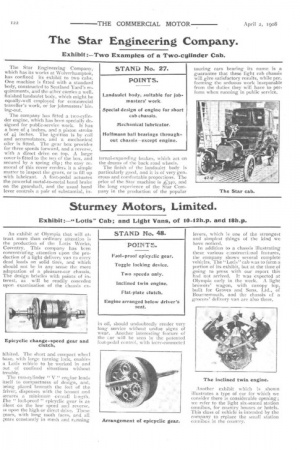 Page 32, 2nd April 1908 —
The Star Engineering Company.
Close
Exhibit :—Two Examples of a Two-eglinder Cab.
The Star Engineering Company, which has its works at Wolverhampton, has confined its exhibit to two cabs. One machine is fitted with a standard body, constructed to Scotland Yard's requirements, and the other carries a well. finished landaulet body, which might be equally-well employed for commercial traveller's work, or for jobmasters' hiring-out.
The comp-any has fitted a two-cylinder engine, which has been specially designed for public-service work. It has a bore of 4 inches, and a piston stroke of 44 inches. The ignition is by coil and accumulators, and a mechanical oiler is fitted. The gear box provides for three speeds forward, and a reverse, with a direct drive on top. A large cover is fitted to the top of the box, and secured by a spring clip ; the easy removal of this cover renders it a simple matter to inspect the gears, or to fill up With lubricant. A font-pedal actuates the powerful metal-to-metal .band brake on the gearshaft, and the usual hand lever controls a pair of substantial, in
ternal-expanding brakes, which act on the drums of the back road wheels.
The finish of the landaulet body is particularly good, and it is of very generous and comfortable proportions. The price of the Star machine is .4:34o, and the long experience of the Star Company in the production of the popular touring cars bearing its name is a guarantee that these light cab chassis will give satisfactory results, while per forming the arduous work inseparable from the duties they will have to perform when running in public service.