The Gallinari Naval Construction Co., Ltd.
2nd April 1908
Page 20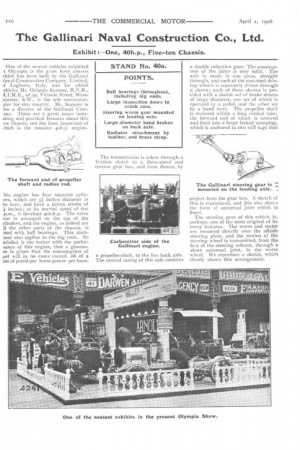 Page 20, 2nd April 1908 —
The Gallinari Naval Construction Co., Ltd.
Close
Exhibit :—One, 40h.p., Five-ton Chassis.
One of the newest vehicles exhibited :t Olympia is the 5-ton lorry chassis vhich has been built by the Gallinari Javal Construction Companv, Limited,
■ f Leghorn, Italy, and for which aides Mr. Orlando Sumner, R.N.R., ef.I.M.E., of 39, Victoria Street, Westainster, S.W., is the sole concessionaire for this country. Mr. Sumner is !so a director of the Gallinari Coinany. There are a great many intersting and practical features about this ew chassis, not the least important of Thich is the massive 4oh.p. engine.
'his engine has four separate cyliners, which are 5a inches diameter in he bore, and have a piston stroke of
inches; at its normal speed of (ion .p.m., it develops 40b.h.p. The valve ear is arranged on the top of the ylinders, and the engine, as indeed are 11 the other parts of the chassis, is .tted with ball bearings. This state:tent also applies to the big ends. So atisfied is the maker with the perforlance of this engine, that a guaranee is given that the consumption of uel will in no cases exceed .68 of a int of petrol per horse-power per hour.
a propeller-shaft, to the live back axle. The central casing of this axle contains
The transmission is taken through a friction clutch to a three-speed and reverse gear box, and from thence, by a double reduction gear. The construction of the latter is very solid. The axle is made in one piece, straight through, and each of the cast-steel driving wheels is separately driven through a sleeve ; each of these sleeves is provided with a double set of brake drums of large diameter, one set of which is operated by a pedal, and the other set by a hand lever. The propeller shaft is enclosed within a long conical tube, the forward end of which is screwed and fixed into a large forked stamping, which is anchored to two stiff lugs that
project from the gear box. A sketch of this is reproduced, and this also shows the form of universal joint which is fitted.
The steering gear of this vehicle is, perhaps, one of the most original of its many features. The worm and sector are mounted directly over the offside steering pivot, and the motion of the steering wheel is transmitted, from the foot of the steering column, through a short universal joint, to the worm wheel. We reproduce a sketch, which clearly shows this arrangement.